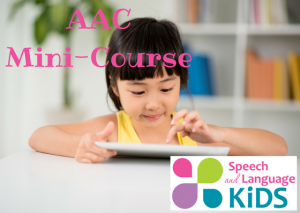 Using AAC to Help Minimally-Verbal Children Communicate
Videos and Printables for SLPs
Using AAC to Help Minimally-Verbal Children Communicate
What's a Mini-Course?
Each mini-course will provide you with a few training videos and a few printable resources to help boost your knowledge and confidence in one area of speech and language therapy. These courses are not for continuing education but will guide you through the process of gaining more in-depth knowledge about the specific skill or therapy.
5 Videos: Each video is designed to teach you something new about using AAC with minimally-verbal children.  See the full list of videos below.

4 Printables: Printable handouts and worksheets that are designed to make your job easier when using AAC.  See the full list below.
Videos

Where to Start with AAC: This hour-long webinar recording will explain how to get started using AAC with a child. (Length: 68 min)
When to Start a Child on an AAC System or Device: How do you know when the right time is to start a child using an AAC device or system? Are there prerequisites that must be learned first before a system can be introduced? (Length: 8 min)
Systematically Introducing and Collecting Data on a New Device: Learn how to introduce and teach a new device to a child and how to collect data so you can demonstrate if it's helping the child or not. (Length 8 min)
Expanding a Child's Use of his AAC Device: Ok, you've taught the child how to use his device to get a few basic wants and needs met. What do you do next? Find out how to encourage the child to use his device for more than just "cookie" and "bubbles". (Length 6 min)
Teaching "Wh-" Questions to an AAC User: Learn how to introduce and teach a child to answer wh- questions using his or her AAC device. (Length 7 min)

Printables

Types of AAC Handout: Learn about the different types of AAC and the options available if you need to try AAC with a child. (1 pg)
Common First Words in Sign Language: Use this packet to learn the American Sign Language signs for 60+ common first words. (11 pgs)
Basic 12-Picture AAC Board: This simple AAC board will help a child get started using pictures to identify his or her basic wants and needs. (1 pg)
Snack Time AAC Board: A slightly more complex AAC board that is designed to be used during snack time. Great for assessing whether a child is ready for a more complex AAC system or device. (1 pg)
Frequently Asked Questions:
Is This Mini-Course a Part of The Speech Therapy Solution Membership?

Yes!  This mini-course is included in the Premium membership level of The Speech Therapy Solution.  If you're already a premium member, you already have access to this course!  Or, you can purchase JUST this mini-course on this page now without getting the full membership (don't worry, you can upgrade later!).

How Do Payments Work for This Mini-Course?

Unlike my full membership, this purchase is a one-time payment.  You just pay $19 today and you won't be charged again.

How Long Will I Have Access to the Mini-Course?

As long as you like!  Once you pay, you'll be able to go back to this page and watch the videos and download the printables as many times as you need.

What If I Decide to Upgrade to the Full Membership Later?

Your purchase of $19 today will be applied to your first month in The Speech Therapy Solution – Premium Membership as long as you upgrade within the first 30 days of purchasing this mini-course.

Can I Get Continuing Education for this Mini-Course?

Unfortunately, we are not able to offer continuing education for this course at this time.  However, it's still a great way to boost your skills, knowledge, and confidence in this area!  I am sure that this mini-course will make your job a little easier!

What's the Return Policy?

If you're not happy with the quality of this mini-course, you can request a full refund within 30 days.  No questions asked!