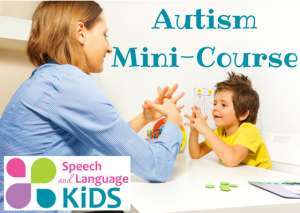 What to Work on in Speech/Language Therapy for Children with Autism
Videos and Printables for SLPs
What to Work on in Speech/Language Therapy for Children with Autism
What's a Mini-Course?
Each mini-course will provide you with a few training videos and a few printable resources to help boost your knowledge and confidence in one area of speech and language therapy. These courses are not for continuing education but will guide you through the process of gaining more in-depth knowledge about the specific skill or therapy.
5 Videos: Each video is designed to teach you something new about working with children with autism.  See the full list of videos below.

4 Printables: Printable handouts and worksheets that are designed to make your job easier when working with children with autism.  See the full list below.
Videos

Overview of Therapy for Children with Autism: Get a general overview of what skills should be addressed in children with autism. (Length: 12 min)
Increasing Functional Vocabulary in Children with Autism: Find out my favorite way to increase functional vocabulary for a child with autism who is just learning to talk. I'll explain why I'm not a fan of picture matching for this skill and how you can teach functional vocabulary in a more natural way. (Length: 10 min)
Speech Therapy for Echolalia: This hour-long webinar recording will break down exactly how to treat echolalia in therapy based on the cause or function of the echolalia. (Length: 1 hour)
How to Work on Social Skills with a Middle Schooler with Autism: Find out the best ways to work with middle schoolers or older children who have autism and social language impairments. (Length: 2 min)
How to Work on Speech Sounds: Having trouble working on speech sounds with children with autism? Check out this hour-long presentation where I give practical tips and ideas for working on speech sound with children who have limited attention skills. (Length: 58 min)

Printables

Autism Cheat Sheet: A quick-reference pack of handouts with information about speech-language therapy for children with autism. (4 pgs)
How to Complete a Reinforcer Probe: Can't find anything that the child is motivated to work for? Try a reinforcer probe to figure out what will get them to communicate. (2 pgs)
Self-Calming Strategies Visual Aids: Visual aids for children who need help learning to regulate their emotions and self-calm when upset. (4 pgs)
Replacing Unwanted Stimming Behaviors Workbook: Work through strategies for replacing unwanted stimming behaviors. (5 pgs)
Frequently Asked Questions:
Is This Mini-Course a Part of The Speech Therapy Solution Membership?

Yes!  This mini-course is included in the Premium membership level of The Speech Therapy Solution.  If you're already a premium member, you already have access to this course!  Or, you can purchase JUST this mini-course on this page now without getting the full membership (don't worry, you can upgrade later!).

How Do Payments Work for This Mini-Course?

Unlike my full membership, this purchase is a one-time payment.  You just pay $19 today and you won't be charged again.

How Long Will I Have Access to the Mini-Course?

As long as you like!  Once you pay, you'll be able to go back to this page and watch the videos and download the printables as many times as you need.

What If I Decide to Upgrade to the Full Membership Later?

Your purchase of $19 today will be applied to your first month in The Speech Therapy Solution – Premium Membership as long as you upgrade within the first 30 days of purchasing this mini-course.

Can I Get Continuing Education for this Mini-Course?

Unfortunately, we are not able to offer continuing education for this course at this time.  However, it's still a great way to boost your skills, knowledge, and confidence in this area!  I am confident that this mini-course will make your job a little easier!

What's the Return Policy?

If you're not happy with the quality of this mini-course, you can request a full refund within 30 days.  No questions asked!