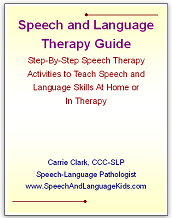 You can improve your child's speech and language skills at home with this great, e-book!  This e-book will provide you with step-by-step guides to teaching the 39 most common speech and language problems.  Guides are written specifically for parents and include visual aids and worksheets along with detailed instructions on how to perform each step. Check it out today!
Click Here to Visit the Speech and Language Therapy Guide Page
Operation Better Speech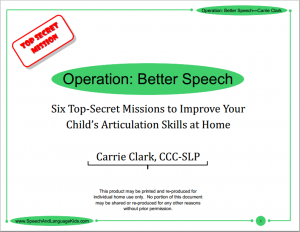 This free e-book will show you how to improve your child's ability to say specific sounds.  Increase your child's intelligibility at home with this e-book!  This is my free gift to you if you sign up for my email list (see below).  Or, you can purchase it for a small fee in the store.
Six Top Secret Missions to Improve Your Child's Articulation Skills At Home
Are you looking for a way to improve speech skills at home for your child?  I have created an e-book just for parents that will show you how to do articulation therapy at home just like I would do if your child were at my clinic for speech therapy sessions.  You and your child will become secret agents on a mission to find your child's missing sounds and put them back where they belong, in your child's speech!  Together you will go on six top-secret missions that will help you improve your child's articulation at home.  Sign up for the Speech and Language Kids newsletter below to download this book for free!
What You Will Get for Signing Up:
26 Page E-Book written by a speech-language pathologist, Carrie Clark, detailing a step-by-step process to articulation therapy that you can do at home with your child
Detailed descriptions of how to do each activity as well as data tracking sheets
Helpful hints along the way such as cues to use to help your child produce a particularly difficult sound
Weekly updates delivered to your inbox which include links to recent blog posts, parent questions answered, new releases, and weekly ideas to keep your child on track to improving his/her speech and language skills (you can unsubscribe at any time)
Occasional updates on new and exciting happenings at Speech and Language Kids