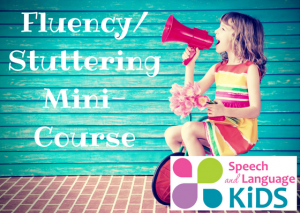 SLP's Field Guide to Improving Fluency and Decreasing Stuttering
Videos and Printables for SLPs
Fluency/Stuttering Mini-Course
SLP's Field Guide to Improving Fluency and Decreasing Stuttering
What's a Mini-Course?
Each mini-course will provide you with a few training videos and a few printable resources to help boost your knowledge and confidence in one area of speech and language therapy. These courses are not for continuing education but will guide you through the process of gaining more in-depth knowledge about the specific skill or therapy.
5 Videos: Each video is designed to teach you something new about improving fluency.  See the full list of videos below.

7 Printables: Printable handouts and worksheets that are designed to make your job easier when working on stuttering.  See the full list below.
Videos

Stuttering/Fluency Therapy Activities Webinar: A full, hour-long presentation packed full of useful stuttering/fluency therapy activities and ideas. (76 min)

What to Send for Fluency Homework: Parent involvement is a key component of fluency/stuttering therapy. Here are some ideas of what you can send home at different points in the therapeutic process that will involve families. (7 min)

Cluttering Webinar: Children who clutter speak quickly and omit many sounds. They also use excessive filler words and may have disorganized language. This hour-long presentation on cluttering will help you understand what it is and how to treat it. (60 min)

When to do Direct vs. Indirect Therapy for Preschoolers Who Stutter: Many children who begin stuttering as preschoolers will resolve their stuttering on their own without treatment. So how do you know if you should jump in with direct therapy or try some indirect therapy or simply wait? This video will help you decide. (3 min)

Generalizing Fluency Strategies Beyond the Speech Room: It isn't reasonable to expect a child to be able to use his/her fluency strategies 24/7, but what do you do when the child will ONLY use his strategies in the speech therapy room? Here are some tips for promoting generalization. (7 min)

Printables

Discovering Negative Emotions Workbook: Often, our students who stutter will have negative emotions associated with their stuttering that need to be addressed in speech therapy. This workbook will help you uncover some of those negative emotions or beliefs with the student so you can address them openly. (6 pgs)
Fluency-Shaping Techniques Worksheets: Fluency-Shaping Techniques are strategies that help a child practice speaking more fluently. This worksheet pack will help them practice. (6 pgs)
Desensitization Prompts Handout: Part of dealing with the negative emotions associated with stuttering can be desensitizing the child to the stuttering by having him/her stutter on purpose. This handout will guide you in helping the child practice. (1 pg)
Preparatory Set Worksheet: A preparatory set is a stuttering modification strategy that can be used to modify a stutter right before it happens (in anticipation of a stutter). (1 pg)
Pull-Out for Stuttering Worksheet: A pull-out is a stuttering modification strategy that will help you get out of a moment of stuttering while you're in the middle of it. This worksheet will help you practice. (1 pg)
Cancellations Worksheet: A cancellation is a stuttering modification technique that will help you move past a moment of stuttering after it has occurred. (1 pg)
Sample Fluency Goals: What kinds of goals do you even write for fluency students?  Here are some sample goals you can write for your fluency clients. (3 pgs)
Frequently Asked Questions:
Is This Mini-Course Included in The Speech Therapy Solution Membership?

Yes!  This mini-course is included in the Premium membership level of The Speech Therapy Solution.  If you're already a premium member, you already have access to this course!  Or, you can purchase JUST this mini-course on this page now without getting the full membership (don't worry, you can upgrade later!).

How Can I Get Access to All of the Mini-Courses Instead of Just This One?

Just join the premium membership here:

How Do Payments Work for This Mini-Course?

Unlike my full membership, this purchase is a one-time payment.  You just pay $19 today and you won't be charged again.

How Long Will I Have Access to the Mini-Course?

As long as you like!  Once you pay, you'll be able to go back to this page and watch the videos and download the printables as many times as you need.

What If I Decide to Upgrade to the Full Membership Later?

Your purchase of $19 today will be applied to your first month in The Speech Therapy Solution – Premium Membership as long as you upgrade within the first 30 days of purchasing this mini-course.

Can I Get Continuing Education for this Mini-Course?

Unfortunately, we are not able to offer continuing education for this course at this time.  However, it's still a great way to boost your skills, knowledge, and confidence in this area!  I am sure that this mini-course will make your job a little easier!

What's the Return Policy?

If you're not happy with the quality of this mini-course, you can request a full refund within 30 days.  No questions asked!