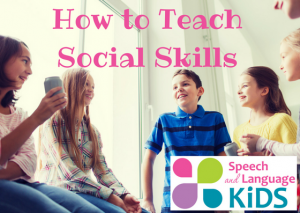 SLP's Field Guide to Improving Social Language Skills in Children
Videos and Printables for SLPs
Social Language Mini-Course
SLP's Field Guide to Improving Social Language Skills in Children
What's a Mini-Course?
Each mini-course will provide you with a few training videos and a few printable resources to help boost your knowledge and confidence in one area of speech and language therapy. These courses are not for continuing education but will guide you through the process of gaining more in-depth knowledge about the specific skill or therapy.
5 Videos: Each video is designed to teach you something new about teaching social language skills.  See the full list of videos below.

4 Printables: Printable handouts and worksheets that are designed to make your job easier when working on social language.  See the full list below.
Videos

How to Run a Social Skills Group (Webinar Recording): This hour-long presentation will help you understand how to run a social skills group for multiple children who need to work on social communication (Length: 64 min)
Teaching Children to Repair Communication Breakdowns: This video will show you the steps to helping a child who doesn't fix the problem when someone doesn't know what they're talking about. This is especially helpful for children with social language deficits who lack awareness that others have difficulty understanding them (6 min)
Helping Children Identify and Regulate Their Emotions: Children with social language impairments often don't know what to do with their strong emotions. Helping them be able to talk about them and identifying strategies to regulate them can be a crucial part to successful participation in social interactions. (6 min)
Teaching Conversation Skills to Middle Schoolers: Do you work with middle-school aged children who struggle with basic conversation skills? This video will help you understand the best way to teach those skills in social groups. (4 min)
How to Run a Lunchtime Social Language Group: Running out of time to pull children to work on social skills? Try a fun lunchtime social language group that will allow you to work on social language in a more naturalistic situation without pulling students from their critical classwork. (6 min)

Printables

Sample Goals for Social Skills: Confused about how to write a good social skills goal? Check out these examples. (3 pgs)
Social Story-How to Initiate Interactions: A social story for children who are verbal (are talking) but have trouble knowing what to say to initiate an interaction. (Microsoft Word File – Editable, 6 pgs)
Tools for Extending Conversations: Strategies that children can use to extend and maintain their conversations to make them longer.  There's one set for older children (3 pgs) and one set for younger children (2 pgs)
Making Inferences from Pictures: Making inferences in a crucial skill in social interactions. Start by helping children make simple inferences about these photos. (8 pgs)
Frequently Asked Questions:
Is This Mini-Course Included in The Speech Therapy Solution Membership?

Yes!  This mini-course is included in the Premium membership level of The Speech Therapy Solution.  If you're already a premium member, you already have access to this course!  Or, you can purchase JUST this mini-course on this page now without getting the full membership (don't worry, you can upgrade later!).

How Can I Get Access to All of the Mini-Courses Instead of Just This One?

Just join the premium membership here:

How Do Payments Work for This Mini-Course?

Unlike my full membership, this purchase is a one-time payment.  You just pay $19 today and you won't be charged again.

How Long Will I Have Access to the Mini-Course?

As long as you like!  Once you pay, you'll be able to go back to this page and watch the videos and download the printables as many times as you need.

What If I Decide to Upgrade to the Full Membership Later?

Your purchase of $19 today will be applied to your first month in The Speech Therapy Solution – Premium Membership as long as you upgrade within the first 30 days of purchasing this mini-course.

Can I Get Continuing Education for this Mini-Course?

Unfortunately, we are not able to offer continuing education for this course at this time.  However, it's still a great way to boost your skills, knowledge, and confidence in this area!  I am sure that this mini-course will make your job a little easier!

What's the Return Policy?

If you're not happy with the quality of this mini-course, you can request a full refund within 30 days.  No questions asked!