The Speech Therapy Solution Membership
Group Memberships!
Continuing ed and evidence-based practice for your speech-language pathologists
Give your SLPs the support they need to be more productive and make faster progress in therapy!
That's how many SLPs and professionals are already members!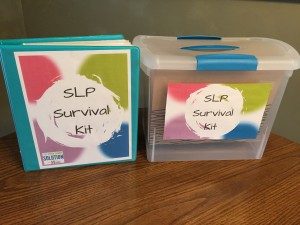 Increased Productivity
Ready-To-Use Therapy Materials And Planning Resources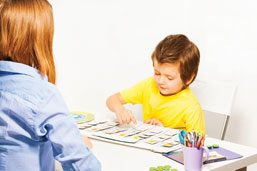 Better Therapy/
Better Results
Access to Evidence-Based Practices Means Faster Progress in Therapy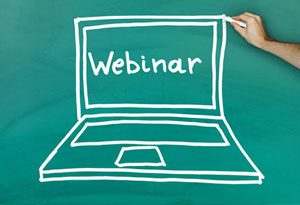 Fulfill CEU
Requirements
Monthly Webinars for Continuing Education and Training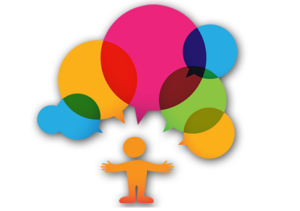 Fast Help/
Answers
Get Answers Quickly so they can Get Back to Seeing Clients
Help for All of Your SLPs:
You want your speech-language pathologists (SLPs) to have all the support and resources they need to do the best therapy possible.  And you want to be able to attract highly qualified SLPs to your workplace.
Finding this level of support doesn't have to be stressful.  We'll take good care of your SLPs inside the membership area.  Here's what they'll get:
SLP Survival Kit:

Your SLPs will spend less time planning and prepping with ready-to-go therapy activities at their fingertips!

Low-Prep Therapy Activities

No need to spend hours searching for the right therapy materials, we have hundreds of grab-and-go worksheets!

On-Demand EBP Training Videos:

Our huge library of evidence-based practice training videos will quickly get your SLPs up to speed and ready to perform the most effective therapy.  No need to send them to costly seminars!
ASHA CEUs:

Your SLPs need 30 hours of CEUs every 3 years to maintain their ASHA license.  We offer a new one hour each month.  That's 36 hours in 3 years.  It's all they need to maintain their CCC's!

Ask Us Anything!

Carrie Clark and The Speech Therapy Solution staff are answering questions directly all week long.  Your SLPs can get the help they need and get back to seeing clients quickly!

Discounts on eBooks:

If your SLPs need even more in-depth support and resources, they'll get a discount on all of our eBooks and some of our partners' products as well!
3-6 Members
SAVE $50 PER MEMBER!
ASHA CEU Webinars
Planning Help and Worksheet Library
Direct Answers to Questions
EBP Training Videos
7-14 Members
SAVE $100 PER MEMBER!
ASHA CEU Webinars
Planning Help and Worksheet Library
Direct Answers to Questions
EBP Training Videos
15+ Members
SAVE $150 PER MEMBER!
ASHA CEU Webinars
Planning Help and Worksheet Library
Direct Answers to Questions
EBP Training Videos
Compare That To a Conference…
| | Our Membership: | Sending SLP to a Convention: |
| --- | --- | --- |
| Price: | $100 per year | $455 per convention |
| ASHA CEUs | ✅ | ✅ |
| Ongoing Support | ✅ | ❌ |
| Therapy Materials | ✅ | ❌ |
| Hundreds of Topics Covered | ✅ | ❌ |
| On-Demand (No Travel) | ✅ | ❌ |
| SLP Survival Kit | ✅ | ❌ |
Have More Questions?
If you have questions about how this program can work for you, Carrie would love to do a call with you!  Click the button below to sign up for a time and Carrie will give you a call.  If none of the available times will work for you, please email us at Carrie@SpeechAndLanguageKids.com
To Pay With Purchase Order:
We can accept purchase orders from your school! Just send us an invoice from your school with exactly what you would like to purchase and we'll get everything taken care of. Here's our information for the invoice:
Speech and Language Kids
2101 West Broadway
Ste. 103 #217
Columbia, MO 65203
Business Phone: (888) 982-8412
Send Invoices to: Carrie@SpeechAndLanguageKids.com
*** Please indicate the number of memberships that you would like to purchase along with the correct pricing ($200 per member for 3-6 members, $150 per member for 7-14 members, $100 per member of 15+ members)
Learn More About What's Included in the Membership! (Push Play)
INFO FOR YOUR SLPs (What They'll Get):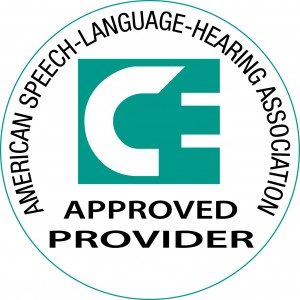 ASHA CEUs
Monthly CEU Webinars
Need some continuing ed?  We have you covered!  Each month, the members vote on one topic that they would like to have an in-depth training with the latest evidence-based practices.  As a member, you will be able to watch the training live and ask questions or watch a recorded version of the training afterwards. We offer webinars that are approved for ASHA CEU credit and you can earn your CEU by attending live or watching any of the recordings that are approved by ASHA within 12 months.
We're adding at least one new hour-long CEU per month and we'll be adding additional ones as we go along.  That's everything you need to get your 30 ASHA-required CEUs per 3-year cycle!  Check out all of the continuing education courses that are currently available:
Current Continuing Education Offerings: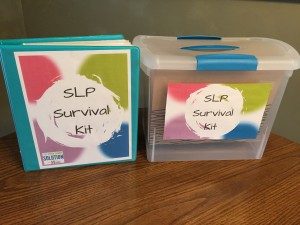 SLP Survival Kit
SLP Survival Kit & Planning Support
Have you ever had an "Oh Crap!" session?  You know, the kind that you either didn't have time to plan for or you had a great plan and it went terribly awry.  Or…Do you find that you just don't have enough time to plan fun activities for your therapy sessions?
Either way, you NEED the SLP Survival Kit in your life.  When you first subscribe to The Speech Therapy Solution membership, we'll get you set up with your very own SLP survival kit.  All you need is a binder/box, dividers, and sheet protectors.  I'll send you the rest.  We'll fill it with ready-to-go worksheets that you can pull out and do in therapy with no prep time.  Use it as your backup or reduce planning time by using those materials instead of prepping new activities for each session.
Then, each week I'll send you a new set of worksheets that you can add to your kit.  It will only take you a few minutes per week and you can pick the ones that are relevant to your students.  Over time, we'll build you a fully-customized set of therapy activities that will cover a variety of communication skills.  The longer you stay in, the bigger your kit will be and the less time you'll spend on planning each week!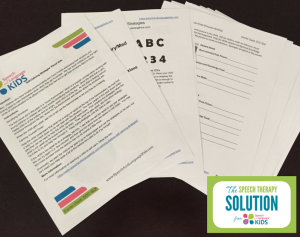 Low-Prep Materials Library (Printable Activities!)
Worksheets You can Print and Use TODAY – Low-Prep Materials Library
Check out our huge library of low-prep and no-prep therapy materials.  Search for the topic you're addressing, print, and go!  You're ready for your speech-language therapy session!  We've done all the work for you so that you have ready-to-go activities for a ton of different topics.  Keep them as a part of your Survival Kit, send them home as homework, use them in your therapy sessions, or do all three!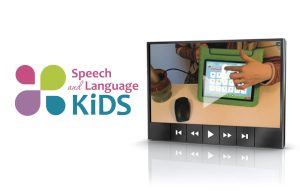 On-Demand Training Videos
Video Library for Additional Training
When you're not sure how to treat a specific disorder or problem, we have a huge library of evidence-based training (EBP) videos to help you out.  Log in at your convenience and watch any of our five to fifteen-minute training videos that will bring you up to speed on the most current EBP strategies and techniques for over 300 different communication delays, problems, or topics.  Each video was created to specifically address a question from a member of the group.
Mini-Courses
Your Premium membership also includes several mini-courses.  Each mini-course will provide you with a few evidence-based training videos and a few printable resources to help boost your knowledge and confidence in one area of speech and language therapy.  These courses are not for continuing education yet but will guide you through the process of gaining more in-depth knowledge about the specific skill or therapy.
Current Mini-Course Offerings:
Using AAC to Help Minimally-Verbal Children Communicate
SLP's Field Guide to Speech Therapy for Children with Childhood Apraxia of Speech
What to Work on in Speech/Language Therapy for Children with Autism
SLP's Field Guide to Improving Fluency and Decreasing Stuttering
Where to Start in Therapy for Children who aren't Speaking Yet
SLP's Field Guide to Working with Children with Behavior Problems
SLP's Field Guide to Improving Social Language Skills in Children
How to Improve Syntax and Grammar Skills in Children with Language Delays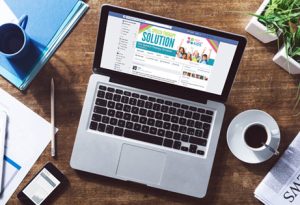 Ask Us Anything!!
Answers to Your Tricky Questions
Let's face it, even with all this support, you're still going to have those tricky cases when you just don't know what to do next.  We have a solution for that as well!  As a member of The Speech Therapy Solution, you'll have two different ways to get answers to your tough questions:
1. Exclusive Facebook Group: Hop into our exclusive Facebook group and ask your question in there.  Carrie directly answers member questions in the group as do the other SLP staff members for Speech and Language Kids.  Plus, you'll get answers from anyone else in the group who has experience with that topic!
2. Forum in the Membership Area: Not on Facebook?  No problem!  You can also ask questions using the forum inside the membership area.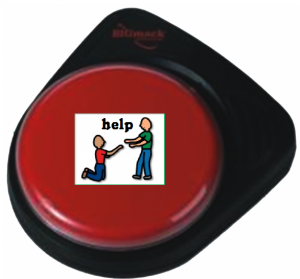 Magic Big Mack
Try it Out Yourself!
Are you wondering if The Speech Therapy Solution has what you need?  Check out the Magic Big Mack!  Answer three simple questions and the Magic Big Mack will take you to the resources you need in the membership area.  You won't be able to access the worksheets or the videos until you join, but you can at least see what we have!
3-6 Members
SAVE $50 PER MEMBER!
ASHA CEU Webinars
Planning Help and Worksheet Library
Direct Answers to Questions
EBP Training Videos
7-14 Members
SAVE $100 PER MEMBER!
ASHA CEU Webinars
Planning Help and Worksheet Library
Direct Answers to Questions
EBP Training Videos
15+ Members
SAVE $150 PER MEMBER!
ASHA CEU Webinars
Planning Help and Worksheet Library
Direct Answers to Questions
EBP Training Videos
To Pay With Purchase Order:
We can accept purchase orders from your school! Just send us an invoice from your school with exactly what you would like to purchase and we'll get everything taken care of. Here's our information for the invoice:
Speech and Language Kids
2101 West Broadway
Ste. 103 #217
Columbia, MO 65203
Business Phone: (888) 982-8412
Send Invoices to: Carrie@SpeechAndLanguageKids.com
*** Please indicate the number of memberships that you would like to purchase along with the correct pricing ($200 per member for 3-6 members, $150 per member for 7-14 members, $100 per member of 15+ members)
To Get More Information:
If you would like more information before purchasing these bulk memberships, Carrie Clark would be happy to speak with you on the phone to walk you through the process and benefits.  Click the button below to sign up for a time and Carrie will give you a call.  If none of the available times will work for you, please email us at Carrie@SpeechAndLanguageKids.com
Frequently Asked Questions
"As a member of The Speech Therapy Solution, I have been able to get some helpful information and resources for topics I am less familiar with, as well as some good information to share with families and colleagues."
"I am a member of The Speech Therapy Solution to be able to receive more personalized information on different therapy techniques, disorders, and any SLP info. I also appreciate being able to look at video answers, have access to the webinars, and see other's questions and see the answers that Carrie provides."
"I've found that the membership is a good source of information. I have found the materials, lesson plans, webinars, and training videos to be helpful and informative, especially for areas that I am less familiar with. I am always looking for new ideas or refreshers, and this membership helps with that."