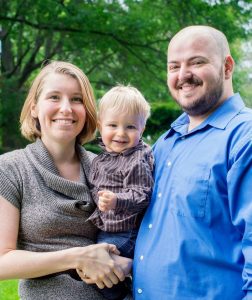 Carrie Clark, CCC-SLP
Welcome to my site!  I'm Carrie Clark and I'm the founder of Speech and Language Kids.  Over the past 4 years, SLK has become the place where speech-language therapists go for answers!
I'm a speech therapist located in Columbia, Missouri and I dedicate my time to creating awesome activities and breaking down the current research into easy-to-follow plans. That means you will easily be able to pick up one of my activities or resources and quickly put it into action right away.
Plus, my materials can be shared with other people on the child's team, including teachers, parents, caregivers, baby-sitters, and therapists so that everyone will understand what's going on and can help the child make faster progress.
Through my work as a speech therapist, I have received great feedback from those parents about what works and what doesn't.  This helps me make sure that I am putting only the best information and resources up on this website. My training and ongoing continuing education as a speech-language pathologist gives me the expertise to understand the field and how best to help the children we serve.
I also have a particular interest in reading and analyzing current research.  This allows me to stay up to date on current research in the field and gives me an opportunity to share that information with others through my website.  I have a knack for breaking that research down into easy-to-understand tidbits that you can use to improve the communication skills of the children in your life.
My journey as a speech-language pathologist began in graduate school at Truman State University in Kirksvile, Missouri.  I quickly learned that my passion in the field of speech-language pathology is with children.  I love working with children and finding ways to help improve the lives of families.
After graduation, I worked at the Columbia Public Schools in Columbia, Missouri in the 3-5 years program.  Although I loved all of the children I worked with and enjoyed the job thoroughly, I found myself longing to be able to provide even more assistance to the families I worked with.  Through the schools, I had very large caseloads and had very little access to their families.  I also struggled against the legal constraints placed on me, such as only being able to help children whose speech and language delays were severe enough to qualify.
In 2013, I quit my safe, secure public schools job and opened my private practice full time.  I had been seeing a few children in my home after school before that but this was the real deal!  Talk about scary!  Fortunately, I was blessed to work with many amazing families and my practice took off!  Throughout all of this, I was also creating awesome content for this website.
I found that I truly love being able to help people all over the world with my information, activities, and resources.  I write about the things that I have struggled with or the things that my families have struggled with.  I figure we can't be the only ones who need the information and there is such a lack of easily accessible information out there!
In 2015, this website had become SUCH a huge success that I found myself having less and less time for my private practice clients.  Although I knew I would miss them dearly, I made the leap and transferred all of my clients over to other therapists in the area.  I now focus ALL of my time to helping my world-wide audience with their speech and language needs.