Thanks so much for visiting my page about autism.  Scroll down to view all of the links to my content about autism and communication.  Or, feel free to take your time and read through all of the information about autism below.
What is Autism?
Autism, also called Autism Spectrum Disorder, is a diagnosis that describes a group of children a common cluster of symptoms, though the degree of severity for each of those symptoms varies widely from child to child.  These symptoms include problems with social interactions and social communication.  They also often include repetitive behaviors and sensory concerns.  Other symptoms can be associated with autism but the social and communication impacts are the primary feature.
What Causes Autism?
Here is an explanation of the currently known causes of autism according to Autism Speaks:
"First and foremost, we now know that there is no one cause of autism just as there is no one type of autism. Over the last five years, scientists have identified a number of rare gene changes, or mutations, associated with autism. A small number of these are sufficient to cause autism by themselves. Most cases of autism, however, appear to be caused by a combination of autism risk genes and environmental factors influencing early brain development."
Source: http://www.autismspeaks.org/what-autism
Warning Signs of Autism
According to Autism Speaks, you should ask your child's doctor about autism if you are concerned about any of these issues:
No big smiles or other warm, joyful expressions by six months or thereafter
No back-and-forth sharing of sounds, smiles or other facial expressions by nine months
No babbling by 12 months
No back-and-forth gestures such as pointing, showing, reaching or waving by 12 months
No words by 16 months
No meaningful, two-word phrases (not including imitating or repeating) by 24 months
Any loss of speech, babbling or social skills at any age
Source: http://www.autismspeaks.org/what-autism/learn-signs
Speech Therapy for Autism
To begin this section, let me first point out that a child is not defined by his diagnosis.  If you walked into my clinic and said "my child is autistic", I would not automatically know what therapy to do or what problems to cure.  Each child with autism is different and needs to be treated that way.  Although there are some therapies that have been found to be more or less effective for children with autism, each child's specific needs will be different.  A licensed speech-language pathologist should be consulted to determine which types of therapies are best for each individual child and which speech and language problems should be addressed first.
In short, treat the child, not the disorder.
However, that being said, there are many speech and language problems that are common among children with autism.  A few of these problems are listed below with links to information that may be helpful.  Keep in mind that this is simply one approach and that the approach listed may not be the most effective for every child on the spectrum.  But they will provide a starting point and a therapy option for each skill listed below.
How to Teach a Child Any New Skill By Fading Supports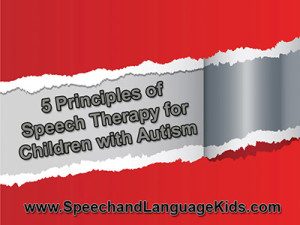 5 Principles of Speech Therapy for Children with Autism
Using Video Modeling for Children with Autism
Some children with autism have difficulty learning new skills or new routines.  Video modeling is a great way to teach children these new skills by having them watch a video of themselves doing the actions.  Click the link to learn more about video modeling:
Video Modeling for Children with Autism
Speech/Language Problems and Suggested Activities:
Non-Verbal Child/AAC
Giving a Voice to Non-Verbal Children With Autism: AAC and Autism
How to Teach Children to Use AAC Devices
Using Sign Language with Language Delayed Children (Baby Sign)
Jump Start Your Late Talker: 8-Week Home Program
How to Make a Communication Board out of a Cookie Sheet: AAC for Autism (Video)
Using the Picture Exchange Communication System (PECS) for Children with Autism
Sensory Concerns
How this Chiropractor Helps Kids with Sensory Concerns
How to Stop Flapping and Other Self-Stimulatory Behaviors
Early Social Skills/Communication Skills
7 Easy Things You Can Do Today to Improve Speech and Language Skills
How to Get Your Child to Respond To Voices
Child Not Responding to Name: What To Do
How to Get a Child to Follow Directions
Play Skills
Teaching Play Skills Through Imitation
Social Interactions
Social Stories for Children with Language Delays
Social Skill Activities for Preschoolers
Social Skills for Adolescents and Older Children with High Functioning Autism
Advanced Language Skills
Speech And Language Therapy Guide: Step-By-Step Speech Therapy Activities to Teach Speech and Language Skills At Home or In Therapy
He/She Pronouns: How to Teach Them
4 Steps to Teach the Past Tense To Your Child
Other grammatical marker guides here
Asking and Answering Questions
How to Improve Reading Comprehension
How to Teach Figurative Language
Daily Living
Social Stories for Children with Language Delays
How to Create a Halloween Social Story
Calming Children: Self-Calming Strategies
Communication-Based Behavior Problems
Alternative Treatments
How this Chiropractor Helps Kids with Sensory Concerns
Screen Time and Language Development: How much is too much?
Speech Delays and Special Diets: Do They Help?
Challenging Behaviors and Autism
Many children with autism have challenging behaviors.  These behaviors can be caused by a number of sources, including frustration over not being able to communicate, sensory issues, and lack of understanding of what's going on around the child.  Here are a few links that will help you deal with those unwanted behaviors in your child with autism:
How to Deal with Challenging Behaviors: An actionable guide on how to extinguish challenging behaviors
Behavior and Sensory Resource Page
How to Respond to Teasing and Bullying:
Your Kid Sounds Funny (and other insults you should totally respond to)
Printable Materials for Autism Therapy
Sequencing Board with Following Directions Card Set
Vocabulary Game: What Do You See?
Adjective Games: Tell Me About It
Spatial Concepts Games: Where Does It Go?
Preschool Vocabulary Flash Cards
Articulation Cards for All Speech Sounds
Autism Websites:
Autism Speaks: The world's leading autism science and advocacy organization, dedicated to funding research into the causes, prevention, treatments and a cure for autism; increasing awareness of autism spectrum disorders; and advocating for the needs of individuals with autism and their families.  You can help support autism research and causes with your purchase at their Autism Store!
Support Autism Research. Shop the Autism Speaks® eStore. Hundreds of items to choose from. Click Here!
Autism Support Now: This website is managed by Ella's Hope for Autism, a non-profit for Autism in Missouri that was started by a lady from my hometown!  Her daughter has autism and she has been an inspiring beacon of light for other families of children with autism. This website offers free autism advice and insight for parents with children on the spectrum.
Join the mailing list to find out when Carrie creates more great content about autism:
Click here to subscribe to my mailing list
Autism Articles By Topic:
Browse All Autism Articles: