Where Speech-Language Pathologists Go for Answers
4 Ways to Get Answers:
Become a Member!
Want even more??  
I have an exclusive membership program called "The SLP Solution" that will give you access to even more amazing speech therapy resources.  You'll get Continuing Ed., a Therapy Activity Database, an SLP Planning Center, and the SLP Solution Staff will answer your questions about your toughest cases.  We're about to make your job a whole heck of a lot easier!
Here's what's included:
Free Resources and Content
Check out the most popular FREE content from Speech and Language Kids below by choosing the category that's right for you!
Speech and Language Kids eBooks
Are you a Speech-Language Pathologist in search of resources that will make your job easier? Or a parent looking to help your child improve his or her communication skills at home? Check out these eBooks from Carrie Clark, CCC-SLP.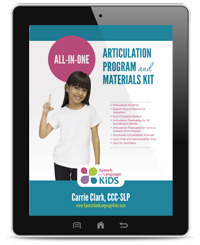 Articulation eBook
All-In-One Articulation Program and Materials Kit
For children who are having trouble saying certain speech sounds correctly.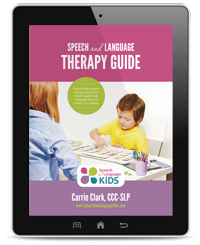 Step-By-Step Plans eBook
Speech and Language Therapy Guide
For children who say more than 50 words and need help with a variety of speech and language skills.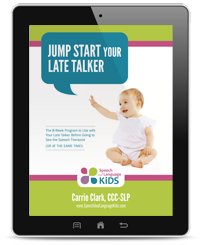 Late Talker eBook
Jump Start Your Late Talker
For children who say fewer than 50 words and aren't putting two words together yet.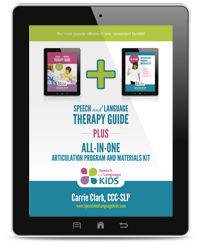 eBook Bundle
Speech and Language Therapy Guide PLUS All-In-One Articulation
Our most popular eBooks in one, convenient bundle!