The Ultimate Resource Guide for Speech Therapists and Parents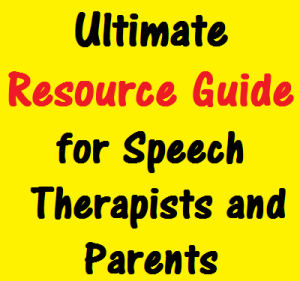 I thought it would be helpful to create a resource guide that includes all of the tools and tips that will help you in your work with a child with speech and language delays.  On this page, you will see my most highly recommended resources for speech therapists as well as for parents of children with speech/language delays or disorders.  Each item on this page is there because I personally believe in it.  If you have any bad experiences with a company, product, or resource, please contact me to let me know so I can re-evaluate if it should be on the list.  I want this to be the best possible resource available!  As I find more awesome resources, I will be adding them.
Disclosure:  Please note that some of the links below are affiliate links, and at no additional cost to you, I will earn a commission if you decide to make a purchase.  Please understand that I believe in all of these companies, and I recommend them because they are helpful and useful, not because of the small commissions I make if you decide to buy something.  Please do not spend any money on these products unless you feel you need them or that they will help you achieve your goals.
---
My Most Recommended:
I get hundreds of emails weekly from readers asking for answers to their speech and language questions.  These are the tools and resources that I find myself recommending the most.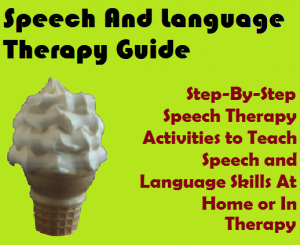 Speech and Language Therapy Guide: This is my massive e-book with step-by-step instructions, lesson plans, activities, worksheets, and handouts for 39 different speech and language skills.  Whether you're having trouble knowing how to teach a child a particular speech/language skill or you're just looking for fresh ideas and pre-made activities to reduce your planning time, this e-book is for you.  I wrote plans for the skills I get questions about the most.  Get 30% off this product by joining The Speech Therapy Solution membership site!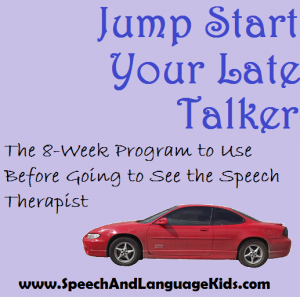 Jump Start Your Late Talker: I also have a lot of families ask about what they can do at home to help their late talker.  In response, I have created an 8-week program that will show you exactly what you can do at home to help a late talker.  Get 30% off this product by joining The Speech Therapy Solution membership site!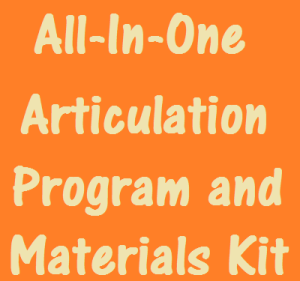 All-In-One Articulation Program and Materials Kit: For those looking to teach a child a new speech sound (or many speech sounds), this kit will provide you with everything you need to quickly and easily do articulation therapy.  From an articulation screener to conversation carry-over and generalization tips, I have you covered!  Get 30% off this product by joining The Speech Therapy Solution membership site!
---
Speech Therapy Materials
---
Online Speech Therapy
If you are a parent of a child with speech and language delays but are unable to access speech therapy services in your area, there are companies who offer speech therapy online.  Here are the ones I know of:
Ellingsen and Associates Online Speech and Language Services: This company is one of the most-experienced telepractice companies when it comes to speech and language therapy.  Mary has been in private practice for 30 years and her company has been doing solely online therapy for the last 10 years.  I can tell from talking to Mary that she cares deeply for her clients and they have a ton of games and materials that keep kids motivated and excited about therapy.  Ellingsen and Associates contract primarily with schools and school districts but they do serve individual families as needed.
TinyEye Therapy Services: TinyEye will set your child up with a speech therapist via video-conferencing but they also have an amazing interactive platform that will allow the speech therapist to play games with your child on the screen that will promote speech and language growth and development.  Your child won't even know it's work!
---
Continuing Education Units (CEUs)
Speech therapists are required to participate in continuing education to maintain their licenses.  These are like courses that update us on the current research, best practices, and therapy techniques that are available.  Check out my favorite sources of CEUs:
SpeechPathology.com: I have been using this website for several years now and I LOVE it!  Any time I'm stuck with a child and don't know what to do in therapy, I log onto speechpathology.com and search their existing courses for the topic.  I've never been disappointed.  Courses are offered as webinars but you can replay them at any time as video, audio only (podcast), text only, etc.  Then, you take a simple quiz and they report to ASHA that you've completed your CEU.  Super easy and the information is VERY valuable.  When I was working at the schools, my school would even allow me to use these as inservice credits so I could move over on the pay scale.  I just listened to them in the car on the way to and from work and got what I needed in a hurry!  Plus, it's a flat yearly fee for unlimited CEUs so it can be much more cost effective than other options.
Northern Speech Services CEUs: This company was recommended to me by Nancy Kaufman, who was a guest on my podcast.  They carry her products, including some CEU courses.  For these courses, you pay by the course so if you just want a few or if you're looking for one topic in particular, this might be a good choice.
Super Duper Free CEUs: I have not personally used the Super Duper free CEUs but I know and trust the Super Duper company so I'm guessing that this is a good way to get some free CEUs.  Check it out and let me know what you think!
---
Games and Toys for Speech
You can use all types of toys and games for speech therapy.  You don't have to rely solely on materials that were created just for the purpose of speech therapy or language tasks.  Here are some products and activities that I recommend for use in speech/language therapy.
Toys:
Bubbles!  Ok, if you work with the birth-5 years population then this is a must!!  I know not all children like bubbles, but many of mine will do just about anything for some bubbles.  I use bubbles as a reward for hard work, or have them use their words to communicate with me about the bubbles.  They can say "bubbles" to request them or "open" if I hand them a bubble container that's tightly closed.  I may have the child say "pop" when he pops them and "blow" when he wants me to blow the bubbles.  We see if we can make big or small bubbles and we talk about if there are a lot of bubbles or just a few.  Seriously…bubbles are the way to go!
Wind-Up Toys: Here's another one for the younger kids though I use these for my older kids as well.  These can be just a reward after working hard, but I like to use them more for eliciting communication from a child.  This is especially effective if the child can't wind the toy up on his own.  If I wind it up for him and then it runs out, I just sit there and wait.  Then, I have the child request "more", "go", or "help" to get it started again.  You can also use these to work on 3rd person present verbs, like "he jumps", or "she walks".  This concept can be hard to work on, but if you know that one wind-up toy only does one action, then you can show the child and then say "what does this one do?".  The answer would be in the 3rd person present tense, like "it jumps" or "it swims".
Puzzles: I love using puzzles with my students!  One of the best things about puzzles is that you can hold onto all of the pieces and then give them back to the child one at a time.  This makes it so that you can control how much or what the child says in between pieces.  For speech kiddos, I have the child say the target sound or word several times before getting each piece.  For children working on vocabulary, I use the kind of puzzles where each piece is its own object.  There are many with animals, vehicles, clothing, etc.  I have the child tell me what it is before he puts it in.  For older children, I use more complex puzzles and have the child talk to me about what he thinks the picture may be while he's creating it.  This will allow us to make inferences and talk about what he based those inferences on.  Plus, we can work on turn-taking and asking questions because I can have the child ask me what I think it is and why I think that.  We also work on talking about the parts of a whole and categories by saying, "I'm putting on the arm, it must be a person" or "I'm putting together the wheel, it must be a vehicle!".
Melissa and Doug: My favorite puzzles are created by Melissa and Doug.  They have a ton of fun toys but I particularly love their puzzles.  Plus, if you go through my affiliate link, you'll get free shipping!  Click Here to Visit the Melissa and Doug Website and Get Free Shipping!
Games
Go Fish: This game is great for practicing speech or language skills!  For speech kiddos, stack the deck with words that contain the target sound.  Then, have the child either say the word by itself, or in a sentence like "do you have a ___".  If the child happens to be working on /g/, /f/, or "sh", you don't have to stack the deck because he will likely get a chance to say "go fish" many times during the game.  I also like to use this game for practicing asking and answering questions.  The repetitive format of the game makes it very easy to practice the same question form over and over again (do you have a…).  Another use for this game is children working on articles (do you have A …).
Hedbanz: This is a great game for both vocabulary building and asking/answering questions.  In this game, you put one card on your head but you don't look at it.  The card is a picture of a common object.  Then, you ask the other person questions about your picture to try to figure out what it is.  You can use this to help children learn how to answer yes/no questions as well as how to ask them.  You can also work on vocabulary building through this activity because the child will have to use clues to come up with the correct word.  For example, you could say that it's a red, juicy fruit that is round and grows on trees.  For that type of activity, it's great for word retrieval as well.
Guess Who: This game is great for asking and answering questions (do you have brown hair?) as well as using adjectives to describe the people.  It is also good for working on following directions like "put down all of the people who have brown hair".  Plus, like many games, you get to work on turn-taking and conversational skills.
Don't Wake Daddy: My kids love this game and it's so simple!  On each turn, you spin to get a color and then move to that spot.  Then, you push the clock next to Daddy (who's sleeping) as many times as the number on the space.  Sometimes Daddy wakes up and you have to go back a spot.  I mostly use this one for a reward by having the child practice his skill several times before taking his turn.  However, you could also work on counting, colors, taking turns, talking about noises, etc.
---
Books and Magazines
I love using books in speech therapy!  The more exposure children have to books, the better their reading skills later on.  This is crucial as children with speech and language delays are at an increased risk for developing reading problems later on.  Any children's book can be used to facilitate language and improve communication so pick up a book and get reading!  Here are a few resources that may be helpful for you though:
---
Apps and Software
There are a ton of great apps out there and they are always changing so I don't claim to be able to keep up, but here are a few of the ones I use in speech therapy.  These links will take you to the iTunes store.  Some will go to iPhone apps and some to iPad but if both are available you can simply change the device once you get there.  I don't currently have an android so I'm not sure what's available for those.
---
Autism Resources:
 Carrie's Autism Resource Page: If you haven't checked out my Autism Resource Page yet, please head on over!  It contains information about autism as well as links to all of my autism-related articles, videos, and podcasts.
Autism Speaks: The world's leading autism science and advocacy organization, dedicated to funding research into the causes, prevention, treatments and a cure for autism; increasing awareness of autism spectrum disorders; and advocating for the needs of individuals with autism and their families.  You can help support autism research and causes with your purchase at their Autism Store!
Support Autism Research. Shop the Autism Speaks® eStore. Hundreds of items to choose from. Click Here!
Autism Support Now: This website is managed by Ella's Hope for Autism, a non-profit for Autism in Missouri that was started by a lady from my hometown!  Her daughter has autism and she has been an inspiring beacon of light for other families of children with autism. This website offers free autism advice and insight for parents with children on the spectrum.
---
Childhood Apraxia of Speech Resources:
Carrie's Childhood Apraxia of Speech Resource Page: Your one-stop shop for all of my resources on childhood apraxia of speech.
Apraxia Kids/CASANA: The Internet's largest, most comprehensive and trusted website for information on childhood apraxia of speech (verbal dyspraxia, developmental apraxia of speech) and children's speech and language topics – including evaluation, speech therapy, research and other childhood communication topics. Invaluable for parents, speech language pathologists, teachers and all those who care about a child with apraxia.
Kaufman Apraxia Speech Therapy Materials: Nancy Kaufman was a guest on my podcast and has a great line of speech therapy materials for children with apraxia.   Check out her products at Northern Speech!
---
Behavior Problems:
Many children with speech and language problems also have behavior problems.  Although my website touches on these things briefly (in terms of how it relates to communication), there are some topics that are beyond my scope.  Here are some links that will help you with behavior problems in your children.
Carrie's Behavior and Sensory Problems Resource Page: All of my best resources when it comes to dealing with challenging behaviors and sensory problems in children with speech and language delays and disorders.
Challenging Behaviors Backpack Connection Series: These parent-friendly handouts are developed by the Technical Assistance Center on Social Emotional Intervention and each focus on a different challenging behavior and solution.  These can be sent home to parents from school or used by parents directly.  This organization also has a ton of information on working with children with challenging behaviors.
Positive Behavioral Interventions and Support: Commonly referred to as PBS, this is a behavioral support system that is often used in the public schools.  We used this in the school system I worked in with great success.  This website will tell you all you need to know about it!