Children with language delays often have difficulty with the he she pronouns.  Some children call everyone "he" or everyone "she" despite their gender, some children say "him" and "her" instead, and some children just omit them entirely.  Well no matter how your child is changing it, it can make it very hard to follow his train of thought if you're not sure exactly who he's talking about.  Here are 5 steps you can use to teach your child how to correctly use the he she pronouns to describe other people.
He She Step 1: Make Sure She Knows The Difference Between a Boy and a Girl
This is the first step to using "he" and "she" correctly because if you don't understand the difference between a boy and a girl, you're not going to be able to use those pronouns correctly.  Start by just asking your child "is that a boy or a girl?" when looking at pictures or pointing out real pictures.  You can have her tell you boy or girl for family members, friends, familiar people, or pictures of people or characters in books.  If your child is having trouble with real people, start with cartoon boys and girls.  For some reason these seem to be easier for some children.  Keep practicing this until your child can accurately tell you boy/girl when you ask.  Make the practice fun by playing games while you do it.
He She Step 2: Using He and She in Short Phrases
Now you want your child to be able to say "he" and "she" in very short phrases.  One way to do this, is to get a picture of a boy and a picture of a girl and then cut out pictures of objects (out of magazines or from online printouts).  Place the boy and girl in front of your child.  Hold up one object and say "who wants the ____?".  Help your child choose if he wants the boy to have it or the girl.  Then, help your child say "he does" or "she does".  Below is an example of a product of mine that allows you to do just this: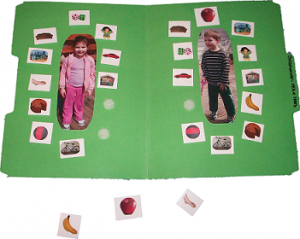 Another way you can use "he" and "she" in phrases is by placing two pictures in front of your child of a boy and a girl doing something.  Then, ask your child "who is ____-ing?" and help your child answer "he is" or "she is".  For example, you could put down a picture of a boy riding his bike and a girl clapping her hands.  Then you could ask, who is riding?  Your child would then need to say "he is".  Below is an example of a product of mine that contains action pictures: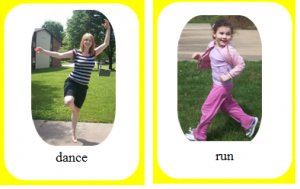 Verb Card
He She Step 3: Using "He" and "She" in Sentences
Once your child can use "he" and "she" in simple phrases, have your child create sentences using "he" and "she".  Show your child pictures of people doing this and have him describe what that person is doing using "he" or "she" (such as "she is riding her bike").  You could use family photos, pictures of people online, or pictures from magazines.  Give your child examples of the types of sentences you want by taking turns and making up your own sentences with "he" and "she" when it's your turn.  If your child says "the boy is riding" or "Johnny is riding" instead of using the pronoun, you can say, "Yes, the boy is riding.  If it's a boy, do we say 'he' or 'she'?"  Then, have your child repeat the sentence using "he" or "she".  If your child uses the wrong pronoun, repeat it back to her with the error as though it were a question.  For example, if she says "she is riding" but it's a boy, you could say "She is riding??".  Pause for a moment and see if she can correct the error herself.  If not, correct it for her by saying something like "this is a boy, do we say 'he' or 'she'?".
He She Step 4: Using "He" and "She" When Describing Story Books or Making up Stories
Once your child can correctly use "he" and "she" in single sentences, you will need to make the activities more difficult.  Get out a story book that has girl and boy characters and have your child describe what's happening in the pictures.  Make sure that your child uses the correct pronouns (he/she) when describing what's going on.  You can also do this same activity while making up stories.  Make sure that your child uses "he" and "she" when telling you about the characters in his story.  If you need some picture cues to help your child create a story and keep track of the characters, events, places, etc., take a look at the Once Upon A Time card game on Amazon.  This game has cards for various fairy tale characters, events, places, descriptors, and more.  You can play the game according to the directions or just use the cards to help you create a story.  Click the picture below to follow my affiliate link to view the product on Amazon: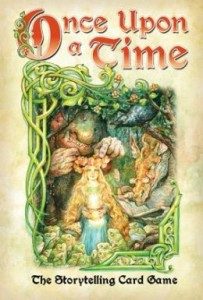 He She Step 5: Correct Your Child In Conversational Speech
Now that your child can use "he" and "she" in sentences and structured story-telling tasks, it's time for your child to start using "he" and "she" correctly all the time.  When you hear your child use these pronouns incorrectly, use one of the following prompts to try to guide your child back to using the correct word:
Repeat the error back as a question: "She is running?"
Ask if the person is a boy or a girl and then ask which pronoun should be used: "Is that a boy or a girl?  Ok, so should we say 'he's my friend' or 'she's my friend'?"
Catch the error and (kindly) point it out to your child: "Oh, you mean 'she is happy'."
Fix the error without pointing it out: "Yes, she is at her Grandma's house."
At first, try not to correct every pronoun your child says incorrectly because there will most likely be a lot of them.  Try setting aside a certain time that you will correct your child and let him know ahead of time.  For example, you might say "Tonight at dinner, I want you to focus really hard on saying "he" and "she".  I'm going to help you remember if you forget, ok?".  This will help your child understand that you're not going to bug him all of the time, just during certain "good speech time" activities.  As your child gets better, you can start catching and correcting more of his errors but start off small so that he doesn't get frustrated.  After a while, your child should begin to produce more correctly and you should be able to provide fewer prompts.
Just remember, this whole process takes time and it may take months of working this process before your child is able to use he she correctly all the time.  Have patience and have faith that your child can do it, it will just take a lot of practice.  That's why she has you though, to help her through it!
Where to Find More Info:
This guide, along with 38 others, is included in Ms. Carrie's E-Book: Speech and Language Therapy Guide: Step-By-Step Speech Therapy Activities to Teach Speech and Language Skills At Home or In Therapy.  This guide includes detailed information on teaching various speech and language skills, including this one, along with worksheets, handouts, sample IEP goals, data collection, and video demonstrations.  Or…
More Resources for Speech-Language Pathologists:
Looking for more therapy ideas and resources to help you provide the BEST services to your clients?  Join us in The SLP Solution, our membership program for speech-language professionals!  Inside the membership, you'll find:
Step-By-Step Guides for teaching a variety of speech/language/communication skills
Pre-Made Worksheets and Therapy Activities for hundreds of different topics
Training Videos for dealing with difficult disorders or problems
Answers to Your Questions in our exclusive SLP community
Tools and Resources to help you with your paperwork and admin tasks
Continuing Education through our monthly webinars and webinar recordings
To join us in the full SLP Solution, or to snag a free membership, click on the button below!