Communication Apps, also known as AAC Apps, can be incredibly powerful tools to help a child who is not able to speak learn to communicate with those around him.  These apps are used for children who have difficulty using speech to convey their thoughts and ideas.  For those children, an alternative means of communication could be beneficial.
Here's a review of some of my favorite communication apps.  If you'd like more information about How to Teach a Child to Use an AAC Device, Click Here!
**Please note, the links to the communication apps in this post are affiliate links that will give me a small kickback from I-Tunes if you go through these links before purchasing.  This will allow me to keep providing great content at no extra cost to you.  Thank you in advance if you choose to use my links!
Communication Apps: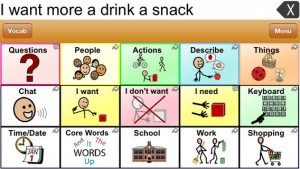 Touch Chat AAC App
Available On: Itunes App Store
Price: $149.99 (for a few basic boards) or $299.99 (for TouchChat with Word Power-recommended)
Review:
This app was created by Saltillo which is a company that makes dedicated AAC devices as well as communication apps.  That means, this same software comes installed on their durable devices that are designed to be used specifically as an AAC device and nothing else.  Why is that a good thing?  Well, you know that they've spent tons of time and money on research and development of their software and if you try the app and find you like it, you can easily transition to a dedicated device that will last you longer and is often covered by insurance companies.
I recommend purchasing the "Touch Chat with Word Power" option, which is more expensive but gives you access to the word power boards which will allow for much more language use and development in your child.  When you open the app, you have the option to choose from many different pre-programmed boards that are specifically designed for different populations.  You can start with very simple boards that were designed for young children with developmental delays or move up to a more sophisticated device.  There are even specific boards for adolescents that has bigger buttons for those who aren't ready for the more sophisticated boards, but who need more sophisticated language than a preschooler would need.
Saltillo used research conducted in adolescent homes about the types of vocabulary that these children want to use.  The "Word Power" boards are much more sophisticated and allow for more language development and growth.  These boards range from 20 buttons per page up through 80 buttons per page, allowing the child to have access to as many buttons as his motor skills will allow.
I personally use the 42 Position option the most often and I love that there is a basic version and a more sophisticated version of the same 42-button layout.  The more sophisticated option changes certain words on the screen when one button is pushed, allowing the device to predict what you may be trying to say.  This cuts down on navigation time significantly.  However, the basic version of this doesn't allow buttons to change as much and includes more pictures/symbols on buttons instead of plain text.  This allows for you to customize the device to the individual child with the push of a button.
Once you choose a board, the boards themselves are also easy to customize and you can easily hide as many buttons as you need to.  This is great for a kiddo who is just starting out and needs help guiding her attention to the target button.  When she's ready, the buttons can easily be added back on.  There are also features that can be used to allow the child to change pages quickly using gestures.  I found these troublesome with some of my younger children because they would accidentally do the gesture while trying to push a button and it would change pages.  Fortunately, these can be turned off for your little ones.
The website for Touch Chat contains tons of support and resources including Webinars and Trainings.  Plus, since the app is provided by a company that sells full AAC devices, you always have access to a local rep who can tell you all about the dedicated AAC devices if you decide that your child would benefit from having his own AAC device.
What I love About It:
Created by a company that makes dedicated AAC devices as well as communication apps so it's easy to transition from app to a more durable device
Pre-programmed boards are specifically designed for certain ages or populations, including a set for adolescents who are often overlooked in the AAC world
Within each button size option (how many buttons per screen), there are options for more basic boards or more sophisticated ones
Easily hide and edit buttons
Tons of support online plus local reps that will show you how the dedicated devices work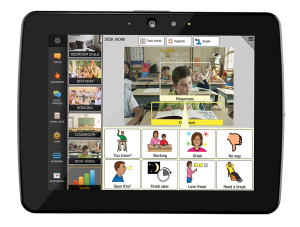 Available On: Itunes App Store
Price: Free for one month, 29.95 per month after that
Review:
This is a new app from a company called Dynavox which is another company that creates dedicated AAC devices. That means you get all of their knowledge and expertise behind each product as well as an easy transition from communication apps to a dedicated device if you decide to go that route.  In fact, Dynavox is one of the oldest AAC companies around so they have tons of research and development under their belts and their new app proves that they're not just settling for what they've done in the past, they're always pushing the limits and advancing their technology and programs.
One of the first great features about this app is the fact that you can download it for free for 30 days!  None of the other communication apps reviewed here have a free trial version.  This can be so helpful when trying to find out if something works for your child.  Then, once you finish your trial you have the option to subscribe to the monthly service which allows you to pay a month at a time.  This is especially helpful if you want to just try the app for a while to see how your child does or if you are eventually planning on getting a full evaluation to have insurance pay for a dedicated device, as this company will be able to sell you that as well.  The cost to try AAC is much less with this app than any other, at least in the short term.
The next awesome thing about this app is that there is a setup wizard which will ask you a series of questions and help you choose the best board for your child so you don't have to try every pre-programmed board they have until you find one.  There are several different layouts that you can choose from and that it will recommend for you.  However, if you choose one layout and decide you want to try a different one, it's easy to switch.  They have a few layouts that are very similar to other layouts we've discussed but their new one is quite unique.  It's called the NavBar layout and it contains a side bar with tons of helpful tools for your child.  You can choose more traditional layouts that resemble other AAC devices, but I want to talk about the NavBar layout because it is so unique!
The words your child needs are grouped into the following categories along the sidebar: topics (you choose activity-specific pages that are relevant to your child, like blowing bubbles or going to the bathroom), quickfires (common words or phrases that are frequently used), quick phrases (longer phrases that your child may want to use often, like "I need to take a break"), word lists (lists of categories with words within each), and core (words that are used to build sentences, like common verbs and grammar words).  This allows for a huge variety of words that your child can have access to.
Also, along the side bar, there is a keyboard which will predict what you're typing as well as a white board, which could be used for a child to draw or write what they're trying to say if they're having trouble finding the button.  You can also save pictures on the white board that they can share with others later.  Another awesome feature which I haven't seen in any other device is the behavior supports that come with each topic page.  For example, if you're in the "bubbles" page, not only are there tons of bubble-specific vocabulary and phrases, but you can also go into the behavior supports page and find options for a visual timer (to know when bubbles are done), visuals that depict rules about bubbles (like how they should be used outside or how you have to stay at the table), a visual sequence that depicts the steps of bubble time, if-then boards that will tell a child the consequences of specific good and bad behaviors during bubble time, and a story that tells about bubbles as your child pushes successive buttons.
Each topic also contains scripts that are full sentences your child can use to talk about that activity.  However, if you ever feel like there are too many options for your child, you can turn any of these features off.  Another feature I love about this app, is that you can include visual scenes to be used along side the other buttons.  Visual scenes are pictures of a scene (like kids playing a game or the layout of a kitchen).  When you push a part of the screen, it will either speak a message or bring up vocabulary specific to that area of the scene (such as bringing up cold foods on the fridge or bringing up dishes in the cabinet).
This can be very helpful for children who do not yet understand all of the symbols that represent different concepts.  With this app, you don't have to choose between visual scenes and grids or between phrases and single words, you get it all!  Finally, I love how easy it is to level up or down the app.  If your child is struggling, you can easily go back to an easier board.  If your child is doing well, you can easily step it up to a new one.  You can also just make parts of the app harder or easier if there is a specific section your child is having trouble with.  For example, you could have tons of core words on there but have easier boards for the topics that your child is less familiar with.
The website for this app is great because not only does it include resources and support, but you can also create an online account that can help you transition between the app and a dedicated device.  You get to keep the same account and can even upload the boards you were using on your app to your online account so you can edit them on the computer or transfer them to a different device.
What I Love About It:
Created by a well-established AAC company
Free 30-day trial, plus monthly subscription after that
Setup Wizard helps you find exactly which board to start with for your child but you can easily switch to a different layout at any time
NavBar Layout contains a sidebar with great tools and unique organization
Tons of words available
Keyboard predicts what you're typing
Whiteboard allows the user to draw or write and allows for sharing pictures of past events (such as from school to home or home to school)
Behavior supports that are specific to certain activities, such as rules and visual schedules
Scripted sentences for the child to use to talk about an activity in more depth
All additional features can be hidden and the pages can be customized
Can use visual scenes along with the grid-style word layout
Don't have to choose between visual scenes and grid-layout or between single words and phrases, you get it all!
Easy to level up or down the app if it is too easy or too hard
Great web support along with an online account that transfers to any device you end up using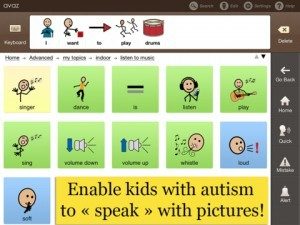 Available On: Itunes App Store, Google Play Android Store
Review:
This communication app is designed for children with autism and definitely goes beyond your every day basic communication apps.  When you first open it, you will see a helpful sidebar at the right of the screen which offers quick choices such as going back, going home, using quick phrases, an error button that will immediately say "I made a mistake", and an alert button that plays a doorbell type noise that could be used to gain attention or alert a listener to a problem.
That last one is a feature I haven't seen on other communication apps.  This side bar, along with the other buttons, adds functionality that some communication apps are missing.  From the home page, you can access core words or more advanced screens that contain topic-specific vocabulary words. This page can be customized to only show the pages that are most helpful for your specific child.  This app is extremely customizable and you can turn off any feature that you find you don't need.
For example, there is a zoom feature that can be activated to zoom in on the button you just selected.  This may be helpful for some children (such as those with visual impairment or distractibility) but it drove me nuts so I was happy to find I could turn it off.  You can also hide/show any of the buttons if you need a less-distracting screen.  You can also change the button size so that there is just one button per page all the way up through 40 pictures per screen.  This is helpful for children with vision or motor problems as well as those who are just starting out with AAC.
Other features highlighted on the website include the ability to track the child's use of the device during therapy sessions to mark progress, reinforcement via animation, use of consistent motor plans, and prediction with pictures.  The Avaz website has tons of support resources with videos and guides.  It also includes a list of their local resource centers which will provide assistance if you live near them.
The website also includes info about the research conducted to design the app.  Although I do not have any experience using this particular app with specific children, I find the app easy to use and full of great tools and resources for children who require an assistive communication device.  This is a great one to check out!
What I love about it:
Available on Android
Reasonably priced as far as communication apps go
Side bar allows for easy access to home, quick phrases, an error button, and an alert button which simply plays a tone to gain attention (very cool tool)
Contains core vocabulary as well as topic-specific words
Very customizable for each child
Button sizes of 1 button per screen through 40 buttons per screen
Backed by research
More Resources for Speech-Language Pathologists:
Looking for more therapy ideas and resources to help you provide the BEST services to your clients?  Join us in The SLP Solution, our membership program for speech-language professionals!  Inside the membership, you'll find:
Step-By-Step Guides for teaching a variety of speech/language/communication skills
Pre-Made Worksheets and Therapy Activities for hundreds of different topics
Training Videos for dealing with difficult disorders or problems
Answers to Your Questions in our exclusive SLP community
Tools and Resources to help you with your paperwork and admin tasks
Continuing Education through our monthly webinars and webinar recordings
To join us in the full SLP Solution, or to snag a free membership, click on the button below!