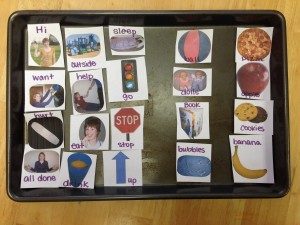 What are Communication Boards?
Communication boards are a great, inexpensive way to provide someone with a means to communicate who may not be able to speak yet.  Each board contains several pictures that represent different message that the person may want to say.  The person using the board will then point to what he or she wants.
---
Who Can Use Communication Boards?
Communication boards are used by children and adults who have a hard time speaking.  This includes children with autism or apraxia as well as adults who have aphasia as a result of a stroke.  Communication boards are easy and cheap to put together so they are a great option when you're not sure what type of alternative communication method will be right for the person you're working with.
---
How Can I Make Cheap Communication Boards Myself?
This video will teach you how to create a simple communication board from a cookie sheet, magnetic tape, and pictures.  You will also learn how to use a communication board to help those who cannot speak, such as those with autism, apraxia, or aphasia.
---
How Do I Teach Someone to Use Communication Boards?
You can teach someone to use a communication board by simply showing them how to do it.  When you're speaking to the child, point to some of the pictures as you talk.  This will give the child a great model of how the board is meant to be used.  For example, you can say "do you want a banana?" as you point to the banana picture, or even the "want" picture and then the "banana" picture.
For more information and help, check out my other post all about teaching a child to use a communication device or system:
How to Teach Communication Devices to Children
More Resources for Speech-Language Pathologists:
Looking for more therapy ideas and resources to help you provide the BEST services to your clients?  Join us in The SLP Solution, our membership program for speech-language professionals!  Inside the membership, you'll find:
Step-By-Step Guides for teaching a variety of speech/language/communication skills
Pre-Made Worksheets and Therapy Activities for hundreds of different topics
Training Videos for dealing with difficult disorders or problems
Answers to Your Questions in our exclusive SLP community
Tools and Resources to help you with your paperwork and admin tasks
Continuing Education through our monthly webinars and webinar recordings
To join us in the full SLP Solution, or to snag a free membership, click on the button below!