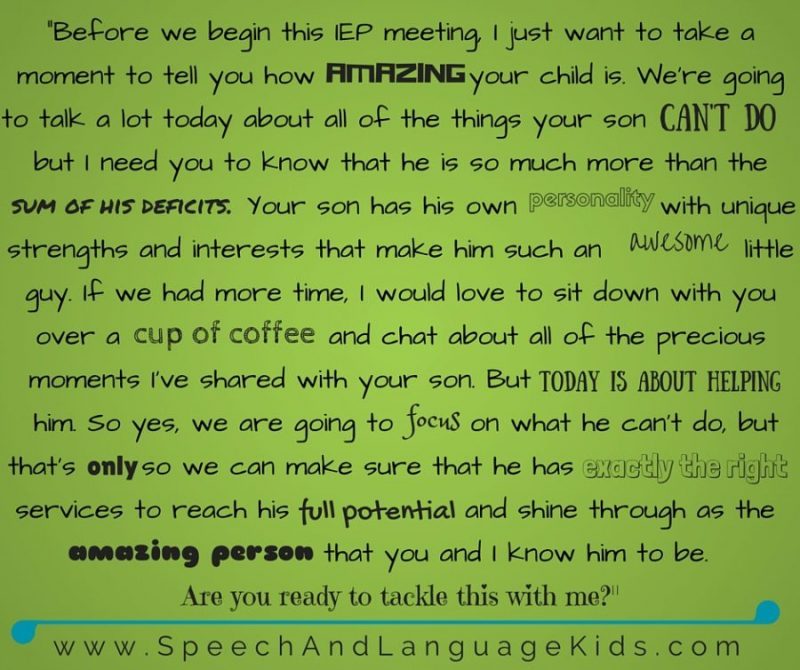 Wouldn't it be great if all IEP meetings started this way?  We think so, too!  Click the button above to download a free copy of this quote that you can post in your office or take to your next IEP meeting.
"Before we begin this IEP meeting, I just want to take a moment to tell you how amazing your child is.  We're going to talk a lot today about all of the things that your son can't do but I need you to know that he is so much more than the sum of his deficits.  Your son has his own personality with unique strengths and interests that make him such an awesome little guy.  If we had more time, I would love to sit down with you over a cup of coffee and chat about all of the precious moments I've shared with your son.  But today is about helping him.  So yes, we're going to focus on what he can't do.  But that's only so we can make sure that he has exactly the right services to reach his full potential and shine through as the amazing person that you and I know him to be.  Are you ready to tackle this with me?"
For more help with IEPs, check out our other resources:
How to Write Awesome IEP Goals: 
Parent's Rights in the IEP Process: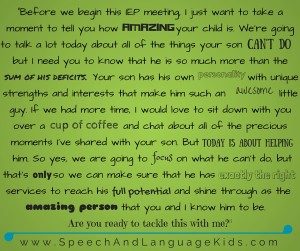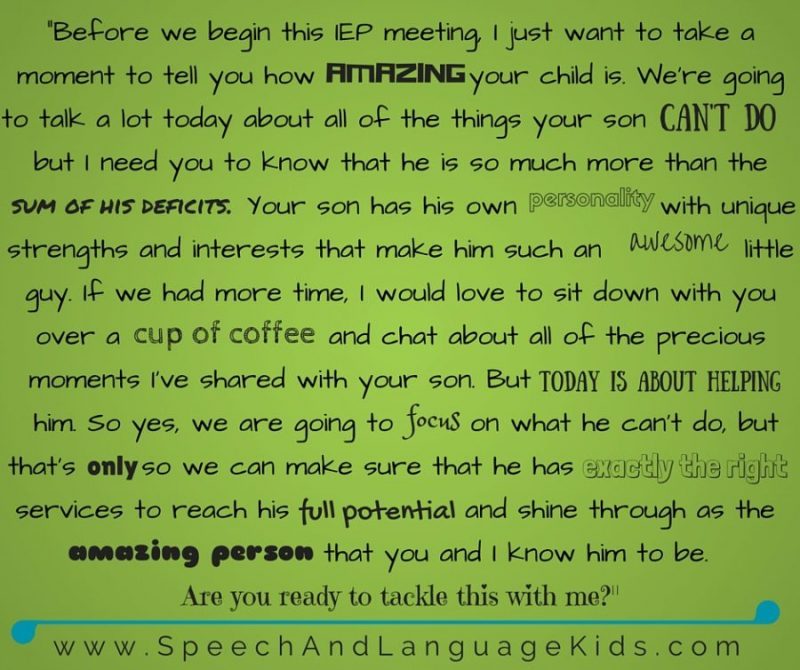 More Resources for Speech-Language Pathologists:
Looking for more therapy ideas and resources to help you provide the BEST services to your clients?  Join us in The SLP Solution, our membership program for speech-language professionals!  Inside the membership, you'll find:
Step-By-Step Guides for teaching a variety of speech/language/communication skills
Pre-Made Worksheets and Therapy Activities for hundreds of different topics
Training Videos for dealing with difficult disorders or problems
Answers to Your Questions in our exclusive SLP community
Tools and Resources to help you with your paperwork and admin tasks
Continuing Education through our monthly webinars and webinar recordings
To join us in the full SLP Solution, or to snag a free membership, click on the button below!