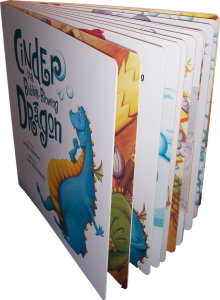 For many school-aged children, March means spring break!  This one or two-week vacation from school is a perfect opportunity to help build a love of books in your children.  And how do you do that, you ask?  Make it a game of course!  Many children with speech and language delays do not enjoy books because their communication problems get in the way of being successful with books.  However, reading books to children is one of the best ways to improve their overall speech and language skills.  If you can make it fun and choose books that they will enjoy reading, you have a much better chance of getting your kids excited about reading!  Here's my week-long March reading challenge, perfect for spring break.
March Reading Madness: The Challenge
Challenge your children to join the March Reading Madness Challenge and read for 3.5 hours in 7 days.  I recommend starting on a Saturday so you can spend some time at the library and ending on at Friday so you can party hard that night when they make it.  That equals out to be 30-minutes per day if you divided it equally.  Tell your children that if they can read 3.5 hours before Friday, they will get a reward.  You should choose the reward based on things that motivate your children.  Don't make it something that you were going to do anyway (like Timmy's birthday party), because then you may end up going even if they don't succeed.  Make it something special and totally unique that they won't get to do otherwise.  Explain all of this to your children so that they understand.  Make sure they know that those minutes can be time that they actually read to themselves or time that another person reads to them, either one will count.  This will allow you to include your very young children as well.  Even babies need to be read to for good language development so include the whole family!
March Reading Madness: The Tools
For this March Reading Madness Challenge you will need a few things.  First, you'll need reading logs so that your children can keep track of how many minutes are read.  This can simply be a piece of paper where your child writes down his reading minutes or you can make a more elaborate sheet on the computer, whatever you want.  Next, you'll need some sort of a visual chart for marking progress.  For example, you could make a thermometer-like chart on the computer or draw one on a piece of poster board and let your child fill it in as he/she acquires minutes.  Be creative and make something fun that your child would like.  Here's an example of what the thermometer might look like: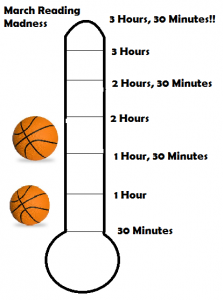 Better yet, have your child help you make something.  They will love being involved in the process!
March Reading Madness: The Books
Of course you will need books.  Don't just count on the fact that they will want to read the books already in your house.  Books from the library are way more fun!  Take your child to the library on the first day of March Reading Madness and try to pick out enough books to fill 3.5 hours of reading.  If you run out, you can always come back later in the week.  You'll want to choose books that your child is interested in but also books that are at your child's reading level.  Teach him how to search the computer data base for books about topics that interest him, such as sports, reptiles, ghost stories, whatever!  The only thing that matters is if your child likes it.  You can even have the librarian show your child how to use the card catalog on the computer if you're not sure.  Write down a list of books about your child's favorite topics and then go find them.  You'll want to make sure they aren't too hard for him so he doesn't get frustrated.  I like to use the five finger rule to figure out if a book is too hard.  Open to a random page in the book and have your child start reading.  For every word that your child does not know, have him hold up one finger.  If there are more than 5 unknown words on that page, he should probably pick something easier.  If your child is very interested in book that's too difficult, offer to read it to him out loud.  However, make sure he gets some books that he can read as well.  Remember, time that you read to him counts toward this challenge as well.
March Reading Madness: Making it Happen
The most important thing about the March Reading Madness Challenge is not letting your child fail.  We want reading to be something motivating and fun for her, not something she failed at.  Make sure that you set aside a little time every day for your child to read.  You could schedule it for a specific time so your child knows when it will happen.  You could also build it into a familiar routine, such as starting to get ready for bed 30 minutes early and reading for that extra time before falling asleep.  Just make sure it gets done.  If your child is struggling to read by herself, read to her to get the minutes in.  Have a family story time that counts for all of your children's minutes.  Just make it happen!!  You can do this and your children will be better for it.  Good luck and have fun with this challenge!!
Be sure to reply to this post with the ways that you made this challenge more fun for your child to motivate other readers.  What rewards did you use?  How did you make your progress tracker?  I'd love to see pictures of what you made for March Reading Madness as well.  Good luck!!
More Resources for Speech-Language Pathologists:
Looking for more therapy ideas and resources to help you provide the BEST services to your clients?  Join us in The SLP Solution, our membership program for speech-language professionals!  Inside the membership, you'll find:
Step-By-Step Guides for teaching a variety of speech/language/communication skills
Pre-Made Worksheets and Therapy Activities for hundreds of different topics
Training Videos for dealing with difficult disorders or problems
Answers to Your Questions in our exclusive SLP community
Tools and Resources to help you with your paperwork and admin tasks
Continuing Education through our monthly webinars and webinar recordings
To join us in the full SLP Solution, or to snag a free membership, click on the button below!