What is RTI?
The focus of an RTI program is to provide each student with the level of support he needs. For some children, this will be special education services provided under an Individualized Education Plan (IEP-the traditional way of providing speech therapy).
However, a new model of providing services has been identified for children who are struggling in an area but may not be involved enough to require full special education services. For these children, services are provided in the regular education environment or with small amounts of "pull-out" sessions without requiring the child to go through the full IEP process.
These RTI services may look like changing up instruction techniques for a particular child, providing speech therapy on a short-term basis, or providing hearing assistive technology.
How is RTI Used for Speech Sound Errors?
Have you ever known a child who was missing a few speech sounds so the IEP team spent 90 days evaluating the child and writing a plan; only to find out that he fixed those errors in about 30 days of speech therapy?
The evaluation took longer than the actual therapy! These are the types of kids who benefit from an RTI approach to speech therapy.
If a child only has a few errors and is stimulable for those sounds (can say them when prompted), he will likely make very quick progress in speech therapy and will be dismissed quickly. For these children, the law has provided us with a way to provide them the short amount of therapy they need without the child having to wait months for the paperwork to get done.
I'm not going to get into how you qualify a child for an RTI program or how to do the paperwork because it will be different for every school district. But I can tell you how to structure an RTI session for maximum success.
While my suggested therapy plan (as follows) is based on evidence-based therapy techniques, it has not been specifically tested or researched so keep in mind that this is just a suggested template and is not the only way to do RTI.
How to Do RTI Therapy for Speech Sound Errors
Step One: Schedule 5-Minute Blocks
The first thing you must do is work out a schedule with the child's teacher. You will want to pull the child out of his classroom for 5 minutes at a time.   Check with the teacher to see which times of the day will be the least distracting for the child.
Try to schedule all of your RTI kids in blocks. For example, if you have 4 RTI kids to see, you can set aside 30 minutes to see all of them. You will pull each one out into the hallway right next to his classroom for exactly 5 minutes and then send him on his way. The only transition time you'll have is getting yourself between classrooms and waiting for the child to walk into the hall with you. You should easily be able to get 4 5-minute sessions into a 30-minute block.
Keep in mind that you can also be doing this right before school while they're waiting to get started or during the "pack-up" minutes at the end of the day.
I would recommend starting with 3-5 sessions per week and then determining from there if the child needs more or fewer sessions.
Step Two: Create an Organizational System
Each child that is an RTI child should have a folder with his or her data sheets (more details about data collection below). For each new RTI student, start him a folder and throw in a few data sheets. You can color code them by grade to make it easier to locate the correct child's folder.
Place these folders in some sort of a box that can easily be transported between classes.   You can use a rolling box like this for easy transport: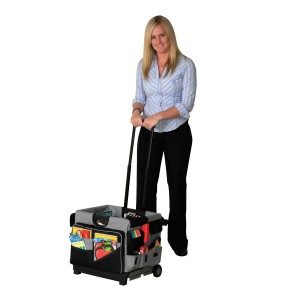 Click picture above or HERE to purchase.
You will also need your articulation materials in your rolling file box. I recommend you keep the following items in the box:
Simple Speech Screener for All Sounds
Flash Cards for Each Sound in Each Word Position (Initial, Medial, Final)
Copies of Homework Handouts for Each Sound in Each Word Position
I know it seems like all of that would take up way too much room, but check out my compact All-In-One Articulation Program and Materials Kit. It has all of those things and they are compact enough that they'll easily fit in a rolling file box.
Plus, it's all done for you, you don't have to do ANYTHING (except for print it out and stick it in the files)!
Click Here to Purchase my All-In-One Articulation Program and Materials Kit
Step Three: Choose One Speech Sound Target
Next, you'll need to decide which sound to target first. Since you don't have very long with each child, you'll need to choose just one sound at a time. You could also choose to target one phonological process at a time but I'm just going to focus on an articulation approach.
If you need help figuring out which sounds the child is having trouble with, do a quick speech screening. My All-In-One Articulation Program and Materials Kit has a quick screener inside if you need one.
I recommend starting with sounds the child is stimulable for so you can make quick progress.
Step Four: Therapy Sessions
Here's how each therapy session will break down:
Minute 1: Run through 20 trials of the target sound in the target context.   Don't provide any feedback, just see how the child does and take 20 data points.
At first, just start with the sound in isolation. If the child is able to get 80% of isolation, move up to syllables. Keep progressing through the stages until you get 80% in conversation. Once you get to the conversational levels, you'll just sit down for the first minute and have the child tell you about a past event and record correct/incorrect productions of the sound.
If you're working on single words and you don't have enough flashcards of a certain position to get to 20 trials, repeat the deck.
Here's a great video showing you how to use my RTI data collection sheets:
Minutes 2-4: Provide feedback and help the child either improve accuracy at the current level or work on the next level up. Focus on getting in as many repetitions as possible.
Do something simple like use a clicker and tell the child you'll click once for every word he says correctly. Tell him he's going for a high score and keep record of who is winning. Or, have the student push a gold coin through a slot in a Tupperware container for each word (or 5) that he says correctly.
The goal is to keep it fun so the child stays motivated without having the "fun" part take too much time away from the practicing.
Minute 5: Provide homework and send him on his way. Pull out a worksheet that is something that works on the child's target skill but that he can do somewhat independently. You don't want to assign something that will be too hard because then he may practice the sound incorrectly at home.
If you have organized your materials well, you should have a file full of worksheets that you can pull out at a moment's notice. My All-In-One Articulation Program and Materials Kit has worksheets that you can send home for every sound in every word position along with worksheets for syllables and conversational level as well.
Step Five: Rinse and Repeat
Once the student reaches 80% at each level, you'll move up to the next level. Once the student is using the sound correctly in conversation with 80% accuracy, you'll move on to a new sound and repeat all of the steps.
Download the Materials:
I know you don't have much time so I've created all of the materials you need to do this for you. All you need to do is print and organize. I know that's time consuming too, but at least you're not reinventing the wheel! Here are the downloads:
Click Here to Download the RTI for Speech Data Sheets
Click Here to Download the All-In-One Articulation Program and Materials Kit
Thanks for reading!
More Resources for Speech-Language Pathologists:
Looking for more therapy ideas and resources to help you provide the BEST services to your clients?  Join us in The SLP Solution, our membership program for speech-language professionals!  Inside the membership, you'll find:
Step-By-Step Guides for teaching a variety of speech/language/communication skills
Pre-Made Worksheets and Therapy Activities for hundreds of different topics
Training Videos for dealing with difficult disorders or problems
Answers to Your Questions in our exclusive SLP community
Tools and Resources to help you with your paperwork and admin tasks
Continuing Education through our monthly webinars and webinar recordings
To join us in the full SLP Solution, or to snag a free membership, click on the button below!
Sources:
http://www.asha.org/advocacy/federal/idea/04-law-early-services/
Podcast: Play in new window | Download | Embed