On this episode of the Speech and Language Kids Podcast, I tell you about some super fun spring speech therapy activities that you can do at home or in speech therapy that will improve your child's speech and language skills.  And in the quick tip, I share where you can find more fun themed speech and language activities.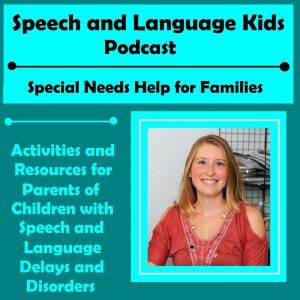 Download the Podcast from I-tunes Here!
Spring Speech Therapy Activities Notes:
Speech: Multi-syllabic bug names

Tons of bugs out in spring
Kids have trouble with 3-4 syllable
Practice saying bug names with many syllables
Get a poster board, divide into four columns: 1, 2, 3, 4 syllables
Print out pictures of bugs online or write words
Have your child tell you how many syllables
Practice saying with all parts and all sounds

clap it out
backward chaining
forward chaining
break into two parts
put all together

Put on poster in right place
Practice saying them later

Planting a Seed: Following Directions

Create an activity where your child plants a seed
Write out directions for older children, speak the directions or make picture directions for younger
2 ways to do this:

Get a pot, put in dirt, poke a hole, put in seed, water
Get a bean seed, put a wet paper towel in a plastic ziplock baggie, put seed between bag and paper towel, seal baggie, lay in sun

Learning Spring Words:

Find spring words online (make two of each one for games)

Play games with the cards

memory, go fish, put in bag and pull out, put in bucket of beans, hide around house, tape to wall in bathroom with flashlight

Sequencing Growth

Pictures online of a plant growing or an animal growing up

Sequence the pictures, which comes first, the baby or the adult?  The seed or the plant?
Take pictures of the child's seed he planted growing and sequence those

Literacy:

Check out books from the library about spring
Talk about vocabulary words in the books
Talk about sequences you see in the book
Answer comprehension questions about book: /reading-comprehension

Ideas for Spring Activities: Make a plan, writing

Have your child come up with ideas of what to do this spring
Brainstorm all of the types of things you do in spring (web)
Choose the ones he likes the best
Make a plan for when they will happen and what he needs to make it work
Write it all down and check in later
Links Shared In This Post:
Send questions for listener Question episode: speechandlanguagekids@gmail.com
Thanks for checking out these spring speech therapy activities!  Don't forget to head over and leave me a review on I-Tunes!
More Resources for Speech-Language Pathologists:
Looking for more therapy ideas and resources to help you provide the BEST services to your clients?  Join us in The SLP Solution, our membership program for speech-language professionals!  Inside the membership, you'll find:
Step-By-Step Guides for teaching a variety of speech/language/communication skills
Pre-Made Worksheets and Therapy Activities for hundreds of different topics
Training Videos for dealing with difficult disorders or problems
Answers to Your Questions in our exclusive SLP community
Tools and Resources to help you with your paperwork and admin tasks
Continuing Education through our monthly webinars and webinar recordings
To join us in the full SLP Solution, or to snag a free membership, click on the button below!
Podcast: Play in new window | Download | Embed