In this episode of the Speech and Language Kids Podcast, I give you a step-by-step guide to getting your child understanding and following directions.  And in the Quick Tip, I tell you about a Facebook Group where you can connect with me and fellow parents and professionals who work with children with speech and language delays.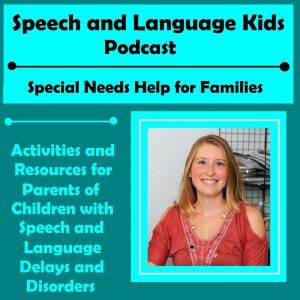 To download the show from I-Tunes, visit: www.SpeechAndLanguageKids.com/Podcast
Following Directions Summary Notes
In this episode, I will discuss:
-How to make a list of common directions
Think about directions that you commonly give your child or listen to the directions that the child's classroom teacher typically gives
-How to create visual aids for teaching your child
Take pictures of your child or another child following those directions
-How to teach your child those directions
Sit your child down and show him the picture.  Give him the direction and help him complete the action.  Then, praise him with toys, hugs, or whatever motivates him.  Keep doing this until he can follow them whenever you show him the picture.
-How to incorporate those directions into daily life
Show him the picture and give the direction during daily routines.  As he gets better, fade the picture so you don't need to show him anymore.
Keep working until he can follow the directions all the time.
– How to help your child follow multi-step directions
Use the same procedure but lay two picture cards out and give both of the directions.  Make sure you say "first, then" when giving the directions.  Then, use them in daily life and eventually fade out the use of the picture cues.
– How to get your child to follow novel directions
Use the same procedure but give different directions every time so your child gets used to listening for weird things like "clap your hands" or "touch your nose".
Following Directions Resources and Links:
Don't forget to leave me a review of the podcast!  www.SpeechAndLanguageKids.com/Podcast
More Resources for Speech-Language Pathologists:
Looking for more therapy ideas and resources to help you provide the BEST services to your clients?  Join us in The SLP Solution, our membership program for speech-language professionals!  Inside the membership, you'll find:
Step-By-Step Guides for teaching a variety of speech/language/communication skills
Pre-Made Worksheets and Therapy Activities for hundreds of different topics
Training Videos for dealing with difficult disorders or problems
Answers to Your Questions in our exclusive SLP community
Tools and Resources to help you with your paperwork and admin tasks
Continuing Education through our monthly webinars and webinar recordings
To join us in the full SLP Solution, or to snag a free membership, click on the button below!
Podcast: Play in new window | Download | Embed
Subscribe: RSS