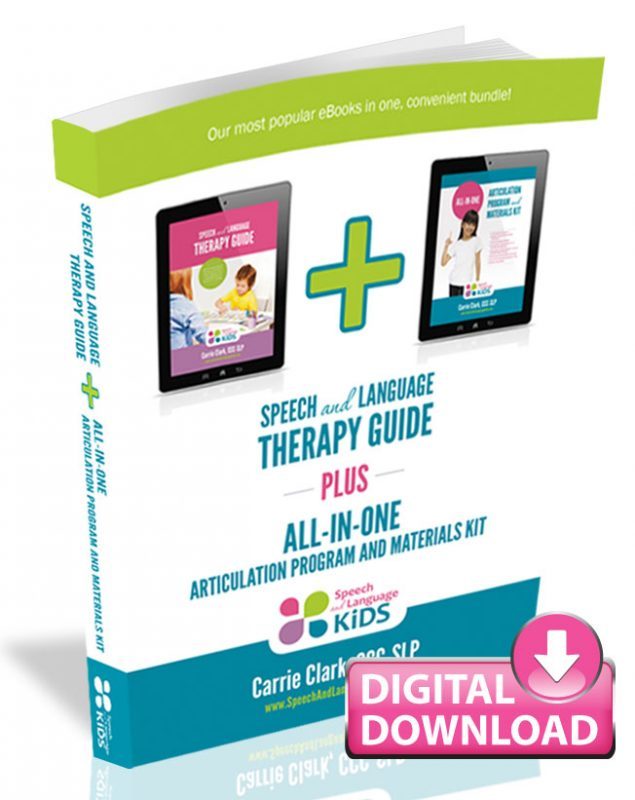 Speech and Language Therapy Guide PLUS All-In-One Articulation Program and Materials Kit eBook
My 2 most popular products together. Mini-Programs for 39 different speech and language skills (lessons, worksheets, handouts, etc.) along with all of the materials and steps you need to do articulation therapy for any English speech sound.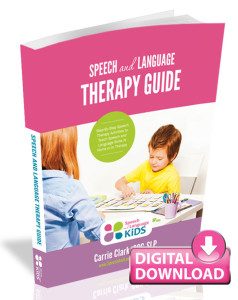 Speech and Language Therapy Guide eBook
For children who say more than 50 words and need help with a variety of speech and language skills.
Step-By-Step Guides for teaching 39 different speech and language skills including skills from the following categories: early communication skills, vocabulary, grammar, questions, speech sounds, and social skills (See Below for Full List).

Worksheets and visual aids for each guide that you can complete at home with your child or send home with your families if you are a speech-language pathologist.

Instructions for how to choose skills to target and how to set up your home speech/language program or your therapy program; data collection sheets; developmental checklists so you can see what skills your child should have at his/her age; and Sample IEP Goals.

Bonus Content (If you Choose the Artic Card Program) – Sets of articulation cards and homework handouts for every speech sound in the English language along with step-by-step instructions on how to do articulation therapy and teach a new speech sound.  Includes worksheets, activities, handouts, speech screeners, flashcards for individual sounds, plans for increasing carry-over/generalization, and more!  Perfect for speech-language pathologists who work with many kids or a parent of a child who needs help figuring out how to improve a child's speech sounds.
Early Communication Skills

•  How to engage a baby to promote good language skills
•  How to get a child to respond to sound/voice
•  How to get a child to imitate actions
•  How to get a child to respond to his name

Vocabulary Guides

•  How to teach a child a new word
•  How to jump start a late talker
•  How to use sign language with a late talker
•  How to use a word web to expand a child's vocabulary
•  How to teach a child a spatial concept
•  How to teach a child descriptors
•  How to improve a child's word retrieval skills

Grammar Guides

•  How to teach a child to use the possessive 's
•  How to teach a child to use the plural –s
•  How to teach a child to use irregular plurals
•  How to teach a child to use the present progressive "-ing"
•  How to teach a child to use the pronouns "he" and "she"
•  How to teach a child to use the past tense verbs
•  How to teach a child to use articles
•  How to teach a child to use the conjunction "and"
•  How to increase a child's length of utterance

Question Guides

•  How to teach a child to answer yes/no questions
•  How to teach a child to answer "what" questions
•  How to teach a child to answer "where" questions
•  How to teach a child to answer "who" questions
•  How to teach a child to answer "when" questions
•  How to teach a child to answer "why" questions
•  How to teach a child to answer "how" questions
•  How to teach a child to ask a question with good word order

Speech Sound Guides

•  How to teach a child a single sound
•  How to teach a child the /r/ sound
•  How to teach a child a class of sounds
•  How to teach a child not to mumble
•  How to fix final consonant deletion

Social Skill Guides

•  How to teach a child to understand and follow directions
•  How to teach a child to do pretend play
•  How to teach a child to take turns with others
•  How to teach a child to self-calm from a meltdown
•  How to teach a child to stay on topic
•  How to use a social story to help a child with a language delay
Less Than the Price of Speech Therapy Sessions
Parents, it costs less than the price of one speech therapy session! Use of home programs increases the speed through which