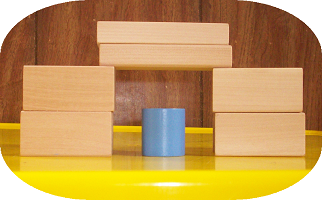 Spatial concepts like "in", "on", "under", "over", etc. are especially difficult for children with language delays.  You can teach your child a language concept by using the following procedure.  Make sure you choose one spatial concept to teach at a time.  The four I listed above are good ones to start with because they are a little bit easier than some others like "between", "next to", etc.
1. Demonstrate and Label the Spatial Concept
Once you've picked the concept you want to start with, demonstrate it for your child using real objects.  For example, let's say you chose "on".  You will want to get out some objects that will allow you to put one thing on top of another.  Let's say you choose a barn and a cow.  Put the cow on the roof of the barn and say "On!  The cow is on.  Cow on".  Then, put the cow somewhere else.  Shake your head and say "not on".  Now put the horse on and do the same thing.  Keep demonstrating objects being on other objects until you feel absolutely ridiculous.  Remember, children with language delays need to be shown a new concept many times before it starts to stick!  Be sure you're saying "on" and "not on" but don't throw in any other concepts like "in" or "under" yet.
2. Following Directions with a Spatial Concept
Once you've thoroughly demonstrated on until you're blue in the face, hand your child something and ask him to put it on.  You could give him the cow and tell him to put it on the house.  Do this with a variety of objects in a variety of contexts until  your child can successfully put something on something else upon command.
3. Yes/No Questions About a Spatial Concept
Now it's time to start asking your child if something is on.  Put the cow somewhere and say "Is it on?  Is it on the barn?"  Exaggerate the word "on" when you say it so he knows that's the concept you're targeting.  Keep doing this until he can answer "yes/no" questions about "on" very reliably.
4. Where is It?
Now that we've done all of this prep work, it's finally time for your child to say the word!  He may have already been saying it by this point but if not, start asking him the question "where's the ____?" when you put something on.   We want him to respond with "on" or "on the ____".  And voila!  You've now taught your child a spatial concept.  Once he gets this solid, try teaching him a second one using the same procedure.
For more great speech and language activities and resources, check out my store at www.SpeechandLanguageKids.com/Store
Where to Find More Info:
This guide, along with 38 others, is included in Ms. Carrie's E-Book: Speech and Language Therapy Guide: Step-By-Step Speech Therapy Activities to Teach Speech and Language Skills At Home or In Therapy.  This guide includes detailed information on teaching various speech and language skills, including this one, along with worksheets, handouts, sample IEP goals, data collection, and video demonstrations.  For more information, click here!