This is Episode # 14 of the Speech and Language Kids Podcast!  This is the podcast with activities and resources for families of children with speech and language delays and disorders. Today I'm going to tell you about cooking activities that you can do with your child to work on speech and language skills.  And in the quick tip I'll share a blog that's all about improving speech and language skills as well as healthy eating at the same time.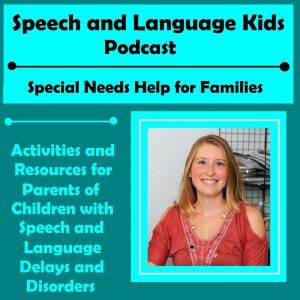 Click here to download in I-Tunes!
Cooking Activities Show Notes:
Ideas for Working on Speech and Language during Cooking Activities:
Following Recipe

Recipes for kids, picture recipes, write your own /picture-recipes (making learning fun)

Works on following directions
Sequencing

Talk about what to do first, next, last

Recall afterwards, what you did first, next, last
Talk about and label actions

stir, pour, mix, dump, bake, cook
Talk about descriptive words

How does it taste, smell, feel, look, sound?
Talk about names of foods you're using
Target foods with a lot of your child's speech sound
Have your child request the things he needs
Take pictures while you're doing it and make a book or album later.  Have your child describe what happened to someone else by looking at the pictures
Ask your child questions during and after the activity to make sure they understand what's going on
Links and Resources Shared:
Pre-Made picture recipes for basic foods: Making Learning Fun
Speech Snacks: A great website/blog with resources and activities designed to improve speech and language and encourage healthy eating at the same time.  I love this!!  Seriously, go check it out!! www.SpeechSnacks.com
Email me your questions for the next episode of the podcast which will be a parent/SLP questions episode.  Send questions to SpeechAndLanguageKids@gmail.com and I will put together the most common questions/most popular ones in an episode.
More Resources for Speech-Language Pathologists:
Looking for more therapy ideas and resources to help you provide the BEST services to your clients?  Join us in The SLP Solution, our membership program for speech-language professionals!  Inside the membership, you'll find:
Step-By-Step Guides for teaching a variety of speech/language/communication skills
Pre-Made Worksheets and Therapy Activities for hundreds of different topics
Training Videos for dealing with difficult disorders or problems
Answers to Your Questions in our exclusive SLP community
Tools and Resources to help you with your paperwork and admin tasks
Continuing Education through our monthly webinars and webinar recordings
To join us in the full SLP Solution, or to snag a free membership, click on the button below!
Podcast: Play in new window | Download | Embed
Subscribe: RSS