Are you looking for some ideas for holiday shopping?  Here are some of my favorite speech and language toys and games that are great for working on speech and language skills.  These are great for children who have speech and language delays as well as for speech therapists or educators who work with those children!  Also, don't forget to check out my store of speech and language games, activities, and e-books here!  If you're looking for a great gift for a speech-language pathologist, try my Speech and Language Therapy Guide E-Book with step-by-step guides for teaching a variety of speech and language skills.
 Speech and Language Toys #1: HedBanz Game
Game Description: Play Hedbanz, the quick question game of "What am I?" Ask "yes" or "no" questions to figure out if the cartoon on your head is an animal, food or man-made object. Be the first player to guess what you are and win! Hedbanz – the game where everybody knows by you!
Speech and Language Skills Targeted: Asking questions, answering questions, describing vocabulary, labeling vocabulary, guessing object names based on descriptions, turn-taking, eye contact
 Speech and Language Toys #2: Apples To Apples
Game Description: Apples to Apples Junior is the game of hilarious comparisons! Based on the popular card and party game, Apples to Apples, this Junior version gives kids hilarious, fast-paced fun while also building their vocabulary and thinking skills. The 576 cards provide hours and hours of fun! Great for ages 9 and older.
Speech and Language Skills: Using descriptors, vocabulary development, turn-taking, deductive reasoning skills
 Speech and Language Toys #3: Ball Popper
Playskool Explore and Grow Busy Ball Popper
Product Description: The Playskool Explore and Grow Busy Ball Popper is a great put-and-take adventure for your infant or toddler. Designed for children ages nine months and up, the Busy Ball Popper will have your child popping the bright, colorful balls into a fun frenzy as they are air-popped out of the lower tube. The ball spinner/popper provides a fun sensorial experience, and includes fun, upbeat music to match the bright colorful characters.
Speech and Language Skills: Teaching cause and effect (basis of all communication), using words to get wants and needs met (have them ask for you to turn it on or fix it if it stops working), joint attention (paying attention to the same thing as you for extended periods of time)
 Speech and Language Toys #4: Sound Puzzles
Melissa and Doug Sound Puzzles
Product Description: Sounds like a great idea! Realistic vehicle sounds are played when the puzzle pieces are properly placed on the board. It's a fun and unique way to reinforce cause-and-effect, early vocabulary and matching skills.
Speech and Language Skills: Matching, vocabulary-building, object-sound associations, requesting (have your child ask for the pieces by name)
 Speech and Language Toys #5: Magnetic Letters
Imaginarium Magnetic Letters and Numbers
Product Description: Includes: 26 Upper Case Letters – 36 Lower Case Letters and 10 Numbers (0-9)
Speech and Language Skills: Children with speech and language delays are at a higher risk for problems with reading and writing later in life.  Give them a head start by providing them a fun way to learn about letters and numbers!
 Speech and Language Toys #6: Magnetic Poetry
Product Description: Ignite your child's love of language and wordplay—qualities crucial for success in a lifetime of reading, writing and general learning—with Magnetic Poetry's award-winning Kids' Kit. Developed with the help of kids, parents and teachers, the Kids' Kit mixes simple words like get, tree and up with more advanced words to grow into like imagine, dinosaur and castle. Comes in a re-usable metal tin for portable playability!
Speech and Language Skills: reading, writing, grammar, building sentences, great for all kinds of language skills for children who are able to read!
 Speech and Language Toys #7: Language Cards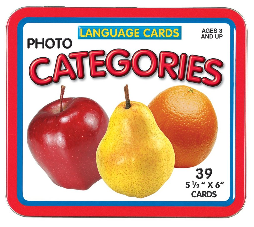 Language Cards: Photo Categories
Product Description: 3 years & up. Children will enjoy sorting and classifying as they find and match the three large photo cards in each category. Set contains 13 different categories (39 cards, 6″ x 5 1/2″) designed to help reinforce discrimination and communication skills. Includes storage box and activity guide.
Speech And Language Skills: Sorting, Categories, Labeling Objects, Word Meanings
These are some great speech and language toys to get you started on your holiday shopping!  For more great speech and language resources and ideas, sign up for our weekly newsletter and receive a free E-Book on how to improve your child articulation skills at home.
More Resources for Speech-Language Pathologists:
Looking for more therapy ideas and resources to help you provide the BEST services to your clients?  Join us in The SLP Solution, our membership program for speech-language professionals!  Inside the membership, you'll find:
Step-By-Step Guides for teaching a variety of speech/language/communication skills
Pre-Made Worksheets and Therapy Activities for hundreds of different topics
Training Videos for dealing with difficult disorders or problems
Answers to Your Questions in our exclusive SLP community
Tools and Resources to help you with your paperwork and admin tasks
Continuing Education through our monthly webinars and webinar recordings
To join us in the full SLP Solution, or to snag a free membership, click on the button below!