We're right in the middle of winter now and one of my favorite winter-time treats is hot chocolate!!  This week, I'm creating hot chocolate activities for speech and language development so you can see all the fun you can have with it!
For all my dairy-free and casein-free friends out there, try my variation on hot cocoa that is perfect for a cold day: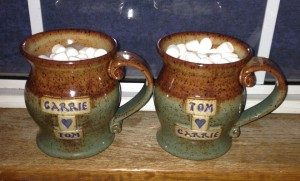 Ingredients:
4 cups almond milk (or substitute any other non-dairy milk of your choice)
2 tablespoons unsweetened cocoa powder (check the ingredients for milk products!)
2 tablespoons sugar (or use honey or 100% maple syrup for a more paleo version)
A few drops of vanilla for flavor (optional)
Marshmallows (optional)
Instructions:
Heat up milk in the microwave or on the stove.  Make sure not to get it too hot!
Add cocoa powder, sugar, and vanilla and whisk briskly.  It will take quite a bit of mixing to break up the cocoa powder.
Add marshmallows and enjoy!
Now, onto the hot chocolate activities!
Hot Chocolate Activities #1:
Making Hot Chocolate: Following Directions, Answering Questions, and Vocabulary
Create a recipe for your child to follow to make hot chocolate.  Write the steps out on a piece of paper and make simple drawings of each step.  For younger children, you can prepare most of it yourself and just have them do a few steps.  For older children, have them do the whole thing, including measuring out ingredients if they're ready for this.  Before you begin, read the recipe to your child and talk about what you will do first, next, and last.  Ask your child questions about the recipe so you know they understand what they are seeing/hearing.  Then, let your child try the recipe.  While you are doing it, make sure you're labeling the actions and objects involved.  Here are some words you might say during this activity:
Actions:
Pour
Dump
Stir
Mix
Put in (microwave)
Push (buttons)
Heat up
Drop (marshmallows)
Whisk
Drink
Nouns:
Milk
Measuring Cup
Measuring Spoon
Spoon
Cocoa
Sugar
Vanilla
Whisk
Marshmallow
Microwave
Cup
After you finish, ask your child questions about the activity, such as "what did we do first/next/last?" and "what was your favorite part?" to work on recall, memory, and formulating sentences.  You can also move to the next activity about using descriptive vocabulary while enjoying your hot chocolate.
Hot Chocolate Activities #2:
Drinking Hot Chocolate: Using Descriptive Vocabulary
While you are enjoying hot chocolate with your child, why not use some descriptive vocabulary??  Here are some ideas of ways you could use descriptive vocabulary to talk to your child about your hot chocolate:
Temperature: Talk about how your hot chocolate feels.  Then, go touch something cold like snow or ice.
Taste: Talk about how your hot chocolate tastes.  Does it taste sweet or sour?  Does it taste like chocolate?
Smell: Does your hot chocolate smell like it tastes?  Do you like the smell of hot chocolate?
Sight: How does the hot chocolate look?  What color is the chocolate?  How about the marshmallows?  What about the spoon and the cup?  How does it look when you stir it with the spoon?  Does it all spin around?
Float or Sink: Talk about what's floating in your hot chocolate and what's sinking.  Do marshmallows float or sink the hot chocolate?  What about if you drop in a chocolate chip or piece of candy?  Does the spoon sink?
Textures: Compare the texture of a marshmallow before it goes into hot cocoa and after.   Talk about how the marshmallow is squishy and chewy before you put it in the chocolate but after it is soft and warm.
Hot Chocolate Activities #3:
Saying Hot Cocoa: Making the /k/ sound
In the world of speech therapy, the sound in the word "cocoa" is commonly described as the /k/ sound (instead of the "c" sound).  This sound is particularly difficult for many children with speech delays and it's hard to say "hot cocoa" without it! ("hot totoa" just doesn't sound the same!)  If you are trying to help your child say the /k/ sound, try first getting out a small sucker (like a dum dum) or a popsicle stick.  You can help your child put his tongue in the back of his mouth for the /k/ sound by pushing down with the stick on the front of his tongue and pushing back slightly.  Try this on yourself first, try saying "t" and then push down on the front of your tongue with a stick (or your finger if you're trying this right now at your computer like I'm doing), you will find that you can't make the "t" anymore and suddenly it sounds much more like a /k/!  When you do this on your child, show him what you're going to do on yourself first, this will help him be less freaked out when you stick something in his mouth.  Then, tell your child to say "k k k k k k" and while he's doing it, see if you can hold down the front of his tongue.  The first several times probably aren't going to sound very good as you both try to get used to what's going on, but eventually it will start to sound more like a /k/.  Once your child can do that, try having him hold the stick/sucker and push his own tongue back.  If he can't do it, you can help him until he can.  After that, the next step is for your child to just use his finger to hold his tongue down and eventually fade the finger out so he can just say it on his own.
Enjoy your hot chocolate activities this week and have fun with some speech and language skills while you do!  Don't forget to sign up for my email newsletter to get a weekly message with great speech and language activities delivered directly to your inbox!
More Resources for Speech-Language Pathologists:
Looking for more therapy ideas and resources to help you provide the BEST services to your clients?  Join us in The SLP Solution, our membership program for speech-language professionals!  Inside the membership, you'll find:
Step-By-Step Guides for teaching a variety of speech/language/communication skills
Pre-Made Worksheets and Therapy Activities for hundreds of different topics
Training Videos for dealing with difficult disorders or problems
Answers to Your Questions in our exclusive SLP community
Tools and Resources to help you with your paperwork and admin tasks
Continuing Education through our monthly webinars and webinar recordings
To join us in the full SLP Solution, or to snag a free membership, click on the button below!