Speech-Language Pathology Assistants (SLPAs)
I know the job of a speech-language pathology assistant (SLPA) is hard!  That's why I've created a resource just for you.  Check out my list of information and materials for SLPAs:
How to Become a Speech-Language Pathologist
Have you ever wondered how to become a speech-language pathologist?  If so, here are some great resources for you on exactly how to do that.
To become a trained speech-language pathologist in the United States, you must first get a Master's degree in communication disorders (some programs have slightly different names for the program) at an accredited university or higher learning institution.  Part of this program will include two 8-week internships, one in a hospital/clinic setting and one in a school setting.
Click Here to Learn how to Succeed in Your Speech-Pathology Program
You must also pass a test that is the Praxis for Speech-Language Pathology.
Click Here to Learn More about the Speech-Language Pathology Praxis
Then, you must complete a 1-year (approximately) fellowship under a licensed speech-language pathologist.  This is usually just the first year of your official paid job.  It is not just another internship.
Click Here for Information for Clinical Fellows
After you complete your clinical fellowship year (CFY), then you will be able to get your full licenses.  You will need a license by your state's board of healing arts and you can also get an additional certification through the American Speech-Language and Hearing Association (ASHA).  This certification is called your Certificate of Clinical Competency in Speech-Language Pathology (CCC-SLP) and is not required to practice but most employers (and clients) prefer you have one.
Click Here to Learn How to Apply for Certification
Once you are a licensed speech-language pathologist, you must stay up to date with current research and best practices by engaging in continuing education units (CEUs).  These are like additional classes that you can participate in to learn the most recent information about a topic.  ASHA requires 30 CEUs every 3 years though your state licensing board may require more.
Click Here to Learn about the Requirements for Maintenance
How Can I Find Out if My Speech-Language Pathologist is Certified?
Click here to visit the certification verification page.  You can look up Carrie Clark in Missouri and see that I am current!
Getting Started With Therapy:
If you're a student or a new speech therapist, knowing where to start in therapy can be very overwhelming.  Here are some resources that will help get you started and boost your confidence:
Carrie's Top Resources for Speech Therapy
How to Teach a Child Any New Skill By Fading Supports
How to Make Speech Therapy More Fun
How to Write IEP Goals (and non-IEP goals) that Will Impress Your Professors and Prepare You for Life on the Outside
Pre-Made Lesson Plans for 39 Different Speech and Language Skills: Take the guess work out of it, these guides will show you exactly what to do.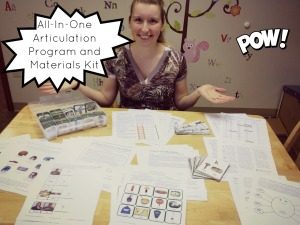 All-In-One Articulation Program and Materials Kit
I have combined all of my best resources on teaching speech sounds into this one product!  This product will save you time and money because it contains everything that you need to do articulation therapy.  It will take you step-by-step through the process and show you exactly what you need to do to teach a child a new sound.  Plus, it contains all of the visual aids, artic cards, and therapy materials that you will need.  This product will take you from screening a child all the way through promoting carry-over in conversational speech.  It is hands down the best product I have for teaching speech sounds.
Where Can I Learn More?
If you are interested in learning more about the field of speech-language pathology, I encourage you to join my mailing list.  You will receive valuable information about the field as well as practical activities and resources that you can use in your future practice.
Browse All Articles for Students and Assistants: