Are you a speech therapist or parent of a middle schooler with speech/language problems?  If so, you've come to the right place!  Check out my fantastic speech therapy resources for children in middle school.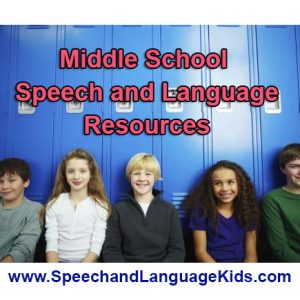 Click Here to Download the Bundle!
Free Middle School Speech Therapy Bundle
Click here to download all of my excellent speech therapy materials for middle schoolers in one bundle! You'll get worksheets and visuals that target Writing Narratives, Making Inferences, Using Figurative Language and Idioms, Using clear speech (not mumbling), and Self-Calming.

Click Here to Download the Bundle!
Middle School Communication Skills:
So what communication skills are needed for children in middle school?  Well, for that we go the Common Core State Standards.  These standards were set forth by the US government as a way to measure progress of American schools.  This curriculum outlines exactly what skills children should master in each grade.
There are a ton of different communication skills that are outlined in the text.  For a full account of what the curriculum includes, click the link below:
Click Here to Read the English Language Arts Standards
However, in case you don't feel like falling asleep right now, let me share with you some of my favorite speech therapy resources for middle schoolers:
Social Skills for Middle Schoolers:
One of the things I get asked about most for this age is how to run a social skills group.  I've broken down exactly how to run the group as well as given you an excellent tool that will provide you with SUPERB social skills videos that you can use during your next social skills lesson.  Check it out:
How to Teach Social Skills to Middle Schoolers (Plus an AWESOME tool!)
Carrie's Top Therapy Activities and Guides for Middle Schoolers:
Make it Fun!
Middle schoolers are notorious for being more than a bit skeptical of our cutsie speech therapy ways.  That means, you can't just purchase any old cartooney product from Teachers Pay Teachers and expect your middle schoolers to be excited about it.  You have to appeal to THEIR interests!
For that reason, I find YouTube to be an excellent resource to use when finding materials for this age.  You can find practical examples of what you're teaching, plus you can find things that appeal to the students' interests.
One of my favorite examples of such an activity includes my friend Kyle's "Rapping Meatballs" video.  Ok, that's not actually what it's called but I think that sounds way cooler 😉
Kyle raps about how to make spaghetti and meatballs.  Kyle perfectly sequences out the steps to creating this favorite dish while still keeping in fun, funky, and fresh (sorry Kyle, I'm clearly not a rapper…).
Rappin' Meatballs Sequencing Activity
Ask about the main idea.  What was the rapper making?
Have the students write down the important steps from the rap.  (They must use listening and thinking skills to determine what in the rap is an important step and what is filler.)
Cut the steps apart onto separate strips of paper and mix them up.  Have the students rearrange the steps into the correct order.
Bonus Videos for Middle School Therapy:
Each weekday, I create a new training video for my elite members based on a question that one of them had.  I've done several videos in the membership area that are specifically about middle schoolers.  Here are a few of those videos:
How to Do a Social Skills Group for Middle Schoolers:
(Sorry this one is a bit blurry, I've fixed the blurry problem since making this)
More Resources for Speech-Language Pathologists:
Looking for more therapy ideas and resources to help you provide the BEST services to your clients?  Join us in The SLP Solution, our membership program for speech-language professionals!  Inside the membership, you'll find:
Step-By-Step Guides for teaching a variety of speech/language/communication skills
Pre-Made Worksheets and Therapy Activities for hundreds of different topics
Training Videos for dealing with difficult disorders or problems
Answers to Your Questions in our exclusive SLP community
Tools and Resources to help you with your paperwork and admin tasks
Continuing Education through our monthly webinars and webinar recordings
To join us in the full SLP Solution, or to snag a free membership, click on the button below!