In this episode of the Speech and Language Kids Podcast, I give an overview of stuttering.  And in the quick tip, I tell you about a website you can take your kids to that has kid-friendly info about stuttering.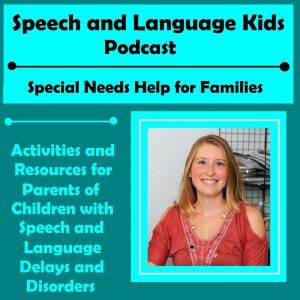 To view the show notes, visit: www.SpeechAndLanguageKids.com/Episode11
To download the Podcast from I-Tunes, visit: www.SpeechAndLanguageKids.com/Podcast
In this episode, I will present stuttering information about:
What is stuttering?  Learn the common definition.

What causes stuttering?  Find out what four factors are thought of as causes.
Is some stuttering normal?  When is it ok for children to do this?
When should I worry?  What are the some of the red flags that this isn't typical?
When should I seek help?  Find out what action to take if you are worried.
What can I do at home in the meantime?  Learn great tips for easing the pressure at home.
In this episode I also give a news update about my latest project, a step-by-step e-book coming out sometime in the next several months.  Find out more about the e-book, what will be included and how you can pre-order on this episode!
Links and Resources shared in this episode:
Stuttering Foundation: Tons of resources for parents and specialists but I love the kids' page on this website: www.SpeechAndLanguageKids.com/stuttering-foundation  You can search the website based on if you're a parent of a preschooler, a parent of a school-aged child, a child, or a professional.  It's a great website!
Sign up for my weekly email newsletter to get updates about the upcoming e-book as well as free speech and language games and activities delivered directly to your inbox every week: www.SpeechAndLanguageKids.com/Sign-up
Don't forget to leave me a review in I-Tunes!  I'd love to hear what you think of the podcast and what things I can do to make it even better for you, my listeners! www.SpeechAndLanguageKids.com/Podcast
More Resources for Speech-Language Pathologists:
Looking for more therapy ideas and resources to help you provide the BEST services to your clients?  Join us in The SLP Solution, our membership program for speech-language professionals!  Inside the membership, you'll find:
Step-By-Step Guides for teaching a variety of speech/language/communication skills
Pre-Made Worksheets and Therapy Activities for hundreds of different topics
Training Videos for dealing with difficult disorders or problems
Answers to Your Questions in our exclusive SLP community
Tools and Resources to help you with your paperwork and admin tasks
Continuing Education through our monthly webinars and webinar recordings
To join us in the full SLP Solution, or to snag a free membership, click on the button below!
Podcast: Play in new window | Download | Embed
Subscribe: RSS