In this episode of the Speech and Language Kids Podcast, I'm going to give you a step by step guide to helping your child with answering questions.  And in the quick tip, I'll tell you where you can find games that you can download and print to target answering questions with your child.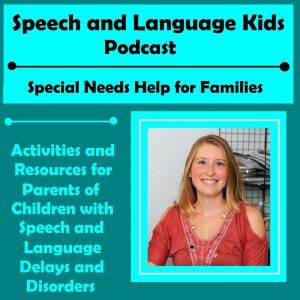 To view the show notes: www.SpeechandLanguagekids.com/Episode13
Click here to download in I-Tunes!
Answering Questions Notes:
In this episode I discuss:
Yes/No

Do You want it?  Yes: Ask your child this question about something you know he wants and have him respond with "yes".
Do You want it? No: Ask your child the same question but now about things he doesn't want and help him say "no"
Mixed Basic Needs: Ask a variety of questions about his wants and needs  like "are you ready?" or "do you want to eat?"
Is this a _____?: Show your child an object and ask questions about what it is called to help your child with yes and no.

Where Questions

Where's your nose: Where questions about body parts.
Where's the ball?: Have your child point to a picture in a book following a where question.
Where's the block?: Place an object in one of two locations and have your child describe the location of that object following the where question.
Where's the shoe (around the room): Hide an object somewhere in the room and have your child describe where it is.
Where do you wash your hands?: Ask abstract where questions about things not present.

Who Questions

Who's this?: About self and familiar caregivers
Who's this?: About other people in the child's life
Who's this?: About community helpers like fireman and policeman
Who does..? (with pictures and without) Ask about who does certain actions or jobs.

When Questions

Time of Day: When do you eat breakfast or go to bed?
Seasonal: When do you build a snowman or swim outside?
Holiday: When do you go trick-or-treating or when does Santa come?
Cause/Effect: When do you wash your hands or take a nap?
Links and Resources shared in this episode:
Podcast: Play in new window | Download | Embed