In this episode, I discuss  how to get your child to sit down and do speech therapy at home with you.  Also, in the quick tip, I will tell you about a resource that has helped me keep my students engaged and doing work with me for a very long period of time!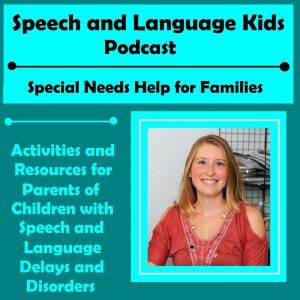 Speech Therapy at Home Notes:
Setting Up Your Home Therapy Schedule

Choose specific times that are designated as speech times
Set a schedule or for older children, work it into their homework routine as something they need to do before they can be done with homework for the evening.
Start with very short sessions and build up time
Choose a certain location that speech time will happen each time (can move around and have fun, just start there)
Be consistent!
Don't give in if your child doesn't want to do it.  If you are running low on time or energy, just make your child do speech work at the scheduled time for one minute.  That way you're still in the routine even if neither of you had it in you to do a full session.
Explain to your child what you're doing and why you're doing it.

Older Children vs. younger children
Setting Up Each Home Therapy Session

Have one specific skill in mind that you want to target
Choose an activity that's fun!

Have everything you need together
Give your child a 5-minute warning
Have a highly reinforcing reward for the end
Starting the Session

Tell your child what you're going to do and why you're going to do it (especially older kids)
Your child should know what he's working on
Tell her what she's working for, what are the criteria for getting it
Set a timer and set it short
Making the Session Fun

Play a game while you work
Trace something while you work
Give them a piece to something after they do a little work (marbleworks)
Hold yoga poses while doing work
Perform actions while doing work
Shoot hoops or toss a ball while doing work
Plastic coins/treasure in a slot
Put cards in mailbox
Find computer or I-Pad games that will work on the skill (technology is always fun!)
Have your child be the teacher and show you how to do it (get it wrong so they can correct you)
Hide their work around the house and have them find the work
Video tape or audio record them doing their work so they can watch/listen to it later

Take pictures of them doing their work and make a book they can show others

Tape work to walls in the bathroom, turn off lights, use flashlight to find and say
Put work on wall and shoot it with a dart gun
Making sure they will want to do it again

Praise them a lot!!
End with something they are successful with
If it's too hard, back down to something easier and then mix in the harder ones
If you get frustrated, end the session early.
Mark their progress and show it to them.
Troubleshooting:
Toddler won't do it: work it into play

/b/ sound by bringing out bubbles, ball, balloon, barn, book
Trying to get them to talk: put everything out of their reach and get confused when they point
Put things they want in sealed jars so they have to ask for help
Give them toys that wind up
Preschooler won't do it:

bee hive for reinforcer
timer
shorter sessions
Get siblings or friends involved
Child with Autism won't do it:

strong reinforcer (can be food) given after you help them do the skill
Fade prompts so they're doing it on their own
Break skills into smallest parts
Child won't imitate any sounds

have him imitate actions first.  If he won't do it, help him and then reinforce like he did it on his own
Child's too old for playing games

Get buy-in.  Make sure he knows why it's important to improve speech
I don't have time!

Throw some speech work or words in your purse or car and pull them out when you're stuck in traffic or waiting in a line somewhere
Speech Therapy At Home Links and Resources:
More Resources for Speech-Language Pathologists:
Looking for more therapy ideas and resources to help you provide the BEST services to your clients?  Join us in The SLP Solution, our membership program for speech-language professionals!  Inside the membership, you'll find:
Step-By-Step Guides for teaching a variety of speech/language/communication skills
Pre-Made Worksheets and Therapy Activities for hundreds of different topics
Training Videos for dealing with difficult disorders or problems
Answers to Your Questions in our exclusive SLP community
Tools and Resources to help you with your paperwork and admin tasks
Continuing Education through our monthly webinars and webinar recordings
To join us in the full SLP Solution, or to snag a free membership, click on the button below!
Podcast: Play in new window | Download | Embed
Subscribe: RSS