The topic of this episode is "Help!  My Child isn't talking yet!"  This episode will give you information about speech therapy for toddlers at home and what you can do to jumpstart your late talkers.  And in the quick tip, I share a website where you can connect to other parents of children with special needs for support and resources.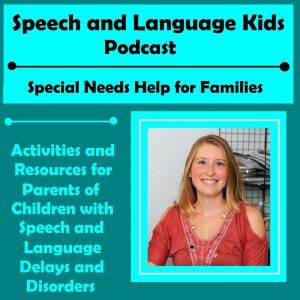 To download the show from I-Tunes, click here.
Speech Therapy for Toddlers and Late Talkers Summary Notes
In this episode, I will discuss:
When should my child start talking?

first word around 1 years
50 words by 1.5 years
Using some 2-word combinations by 2 years
There is a Wide Range of Normal!  Don't stress out if your child is just slightly behind these norms.

What if not doing that?

Talk to SLP!! There are many free speech therapy services out there through state agencies and local school distrcits.  Try those or contact a speech therapy clinic in your area.
Try some strategies at home and in the meantime to improve language skills

Strategies for speech therapy for toddlers and late talkers:

Use shorter utterances: speak in utterances that are the same length or one word longer than what your child typically uses.
Sign Language

www.ASLPro.com has many sign language videos you can watch to teach yourself.
Sign the words that you say in short utterances.
Choose 10 words to target at any one time instead of learning the whole English language!

Self Talk: Talk about what you're doing
Parallel Talk: Talk about what your child is doing
Communication Temptations: Keep things out of your child's reach so he must comunciate to tell you what he wants.
Violate expectations: Give him cereal without a spoon or forget to put on one shoe and see if he communciates the error to you.
Withhold until they sign or talk: If this frustrates your child to the extent that his behavior becomes out of control, it's not worth it.  But making children a little mad about it can get some of them to start communicating out of desperation.
Speech Therapy for Toddlers and Late Talkers Resources and Links:
ASLPro: An online dictionary and learning tool for American Sign Language: www.ASLPro.com
Parents Helping Parents: A website with great resources for parents to connect with and help other parents of children with special needs: http://www.php.com/
Weekly, themed speech and language activities on my website: www.speechandlanguagekids.com
More Resources for Speech-Language Pathologists:
Looking for more therapy ideas and resources to help you provide the BEST services to your clients?  Join us in The SLP Solution, our membership program for speech-language professionals!  Inside the membership, you'll find:
Step-By-Step Guides for teaching a variety of speech/language/communication skills
Pre-Made Worksheets and Therapy Activities for hundreds of different topics
Training Videos for dealing with difficult disorders or problems
Answers to Your Questions in our exclusive SLP community
Tools and Resources to help you with your paperwork and admin tasks
Continuing Education through our monthly webinars and webinar recordings
To join us in the full SLP Solution, or to snag a free membership, click on the button below!
Podcast: Play in new window | Download | Embed