Many children with speech and language delays have difficulty staying on topic during conversation.  They may jump around from one subject to another, making it very hard for the listener to keep track of what they're talking about.  Here's an idea I've used for the kids in my practice to help them learn staying on topic:
Staying On Topic Activity
The Topic Maintenance Railroad
Decide on a topic of conversation with your child.  At first, choose topics he enjoys.  As he becomes better at staying on topic, you can begin to choose topics that interest him less.  Show the child the train pictured below and explain to him that each of the train cars represents what we say about that topic.  If you say something that isn't about the topic, then the train car falls off the track.  Try to keep all of the train cars on the track.  If your child is struggling, print off the train and write what he says during a conversation above each train car and then discuss whether they are about the topic or not.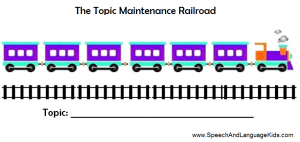 After you've been practicing this for a while, try setting some goals with your child such as how many turns your child will stay on topic.  You can tell your child "There are six cars on this train.  Let's see if you can think of 6 things to say about our topic."  Then, celebrate with your child once he fills up the train but only write down the things your child says that are on topic.
Once your child begins to understand this analogy, you can begin to use it in other settings as well.  For example, when your child changes the subject unexpectedly, you can say something like "Wait a minute!  We were talking about pizza.  You changed the topic.  Did your train fall off the track?"
Where to Find More Info:
You can find a more detailed version of this guide about staying on topic, along with 38 other speech and language skills, in Ms. Carrie's E-Book: Speech and Language Therapy Guide: Step-By-Step Speech Therapy Activities to Teach Speech and Language Skills At Home or In Therapy.  This guide includes detailed information on teaching various speech and language skills, including this one, along with worksheets, handouts, sample IEP goals, data collection, and homework pages.  For more information, click the button below: