Teaching "When" questions can be very difficult so I've broken it up into the four types of "when" questions that are typically asked and how to address each one.
1. Time of Day When Questions
An easy one to start with is time of day when questions.  These are questions where the response is a time of day, be it a specific numeric time or a general period like "morning" or "night".  Here are some examples of these types of questions:
When do you eat lunch?
When do you go to sleep?
When do you play outside?
When do you take a bath?
To teach these when questions, start with a few picture choices for your child.  For example, you could have a picture representing nighttime and one representing daytime.  Then, ask your child a question that either happens at night or during the day and have her point to and say the correct response.  For example, when do you sleep (at night) and when do you eat lunch (in the day).  Then, work your way up to questions with more complex answers like "morning" or "noon".  Don't worry about numeral time (like 4:00) unless your child is able to tell time.  Then you can work on things like "when does the bus come pick you up", etc.
2. Seasonal When Questions
The next type of when questions you can teach your child include what season something happens.  For example, when do you build snowmen?  In the winter of course!  For these when questions, start by having picture choices of all the seasons in front of your child and have her choose which one is correct.  You may have to talk about the seasons beforehand so she knows which one is which.  Keep doing this until she can answer them without the picture cues.
3. Holiday When Questions
Next are when questions where the answer is a holiday.  These are questions like "when do you go trick-or-treating".  Again, start off with some picture choices of all the different holidays and see if your child can answer the questions using those.  Once he can do that, remove the pictures and see if he can do it without using them.
4. Cause and Effect When Questions
These are the most difficult when questions to answer because there is no set amount of possibilities.  These are questions like "When do you eat? When I'm hungry".  For these when questions, you won't be able to have picture choices available for every question but you may want to have some choices that you can give them verbally.  For example, you could say "when do you wash your hands?  When they're dirty or when you're tired?"  Start off giving those types of choices and then eventually just ask the question and see if she can answer it on her own.  These will take a lot of practice so keep working at it!
I'd love to hear from you on Facebook to know what you like and what you'd like more of on my website.  Please head over to www.SpeechandLanguageKids.com/Facebook and leave me a note!
Where to Find More Info:
This guide, along with 38 others, is included in Ms. Carrie's E-Book: Speech and Language Therapy Guide: Step-By-Step Speech Therapy Activities to Teach Speech and Language Skills At Home or In Therapy.  This guide includes detailed information on teaching various speech and language skills, including this one, along with worksheets, handouts, sample IEP goals, data collection, and video demonstrations.  For more information, click the button below:
You can also pick up a set of three when questions games in my store that you can download and print at home for extra practice.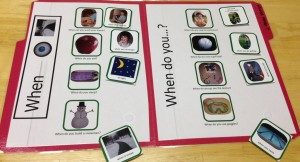 More Resources for Speech-Language Pathologists:
Looking for more therapy ideas and resources to help you provide the BEST services to your clients?  Join us in The SLP Solution, our membership program for speech-language professionals!  Inside the membership, you'll find:
Step-By-Step Guides for teaching a variety of speech/language/communication skills
Pre-Made Worksheets and Therapy Activities for hundreds of different topics
Training Videos for dealing with difficult disorders or problems
Answers to Your Questions in our exclusive SLP community
Tools and Resources to help you with your paperwork and admin tasks
Continuing Education through our monthly webinars and webinar recordings
To join us in the full SLP Solution, or to snag a free membership, click on the button below!